Recently both AV-Test.org and AV-Comparatives.org have announced respective results for their dynamic real-world or whole-product tests. Basically these AV tests try to replicate user experience by introducing malware to the test machine in pretty much the same way a regular user would encounter malware and get infected. We are very proud of the results of Panda Internet Security 2011/2012 as it shows consistency in providing top quality detection and protection, on top of better known security vendors such as Symantec, Avast, AVG, ESET, Trend Micro, Microsoft, Webroot, etc.
AV-TEST REAL-WORLD TEST – Q2 2011 RESULTS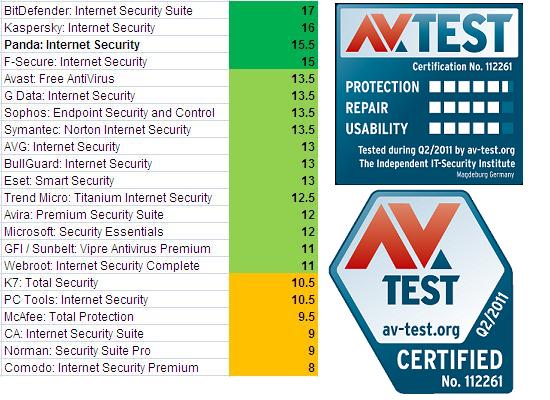 In this real-world test results for Q2 2011 Panda was one of only 4 vendors to achieve a score higher than 15 points.
AV-COMPARATIVES WHOLE-PRODUCT TEST – JUNE 2011
In the June 2011 test Panda Internet Security achieved the first place in "blocking" rate without requiring any user interaction along with two other vendors.