According to the team, "Accuracy is the key to success in Formula 1, as every millisecond counts in a scenario where mobility is the norm." HRT F1 Team selected Panda Security as their security provider due to the accuracy of their Cloud technologies and the "anytime, anywhere" availability of their solutions.
The Spanish Formula 1 team protects their computers with the cloud-based solutions Panda Cloud Office Protection and Panda Cloud Email Protection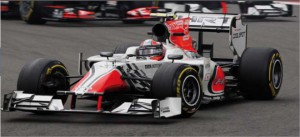 HRT F1 Team, the first ever Spanish team in Formula 1, has selected Panda Security to protect their computer network with Panda Cloud Office Protection and Panda Cloud Email Protection.
Panda Security will protect 200 computers in 4 offices in a highly mobile environment. According to Toni Cuquerella, Chief Race and Test Engineer of the HRT F1 Team, "Mobility is the norm in the F1 circus, as our racing team is constantly moving from one continent to another. In this scenario, all the computers -workstations and servers-, used by our engineers and other personnel require exceptionally high performance and reliability".
"Email is the primary means of communication for us. It is therefore very important to have a clean, highly effective email system that protects users and safeguards bandwidth resources for sending information about the race", explained Cuquerella.
Finally, accuracy is another key aspect for the HRT F1 Team, as the racing competition is full of "Critical moments when systems just cannot fail, so that engineers can give drivers the most appropriate instructions according to the data gathered" added Cuquerella.
The accuracy provided by Panda Security's cloud technologies, capable of detecting 100 percent of known and unknown malware threats, was crucial for the team. HRT F1 Team was also impressed with the solutions' updates as well as their detection and reporting capabilities.
HRT F1 Team selected Panda Cloud Office Protection as the all-in-one solution for their workstations, laptops and servers as it was the only one that could provide maximum protection in their distributed and highly mobile environment. Panda Security's robust anti-malware and firewall solution allows remote updates and monitoring from Spain, applying the most adequate policy at all times.
Finally, Panda Cloud Email Protection is configured to protect all of the group accounts, from its headquarters to the racing team. As the solution is hosted in the cloud, bandwidth usage and server processing are reduced as non-productive traffic containing spam and malware is filtered out before it reaches the corporate network.
"The solution has been implemented very quickly on our computers and servers as it doesn't require any setup or infrastructure investments. Users can easily retrieve email messages blocked as spam or for any other reason", said Cuquerella.
More information about Panda Cloud Office Protection and Panda Cloud Email Protection.
The HRT F1 Team case study is available at: https://press.pandasecurity.com/press-room/case-studies/