Panda Security,The Cloud Security Company, today announced the beta release of Panda Global Protection 2015, its comprehensive anti-malware solution for protecting the information and digital life of home computer users. The new version has more features and is lighter, more secure and more complete than ever before.
This year, everything is new
Panda Global Protection 2015 Beta is the most comprehensive solution in Panda Security's new retail product line, and includes key improvements from the product's 2014 version:
New, more straightforward interface.
New technological platform that harnesses the power of Panda's cloud.
Wi-Fi protection thanks to its firewall and intrusion detection system.
Parental controls to monitor kids' browsing habits, giving them the freedom they need with the protection that parents demand.
Data Shield module to keep confidential documents safe from viruses designed to steal or hijack them.
New Tuneup module to keep users' computers clean and tidy. Users won't see the difference, but they will notice it.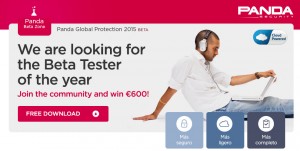 Beta Tester Challenge: exclusive prizes for the community
Along with the release of the beta, Panda Security also announced the launch of a competition with exclusive prizes to reward its beta testers:€ 600 for the 'beta tester of the year', 9 prizes of € 200, and 250 one-year subscriptions to Panda Global Protection 2015 (for 3 devices).
"Beta versions help us ensure our products include every feature demanded by our user community and everything works as requested. Users' opinions are key to making our products even better, so we listen to and interact with them to make sure our solutions are perfectly suited to their needs", explained Hervé Lambert, Retail Product Marketing Manager at Panda Security.
"This year's version has been developed from scratch. Everything is new, and we can safely say that Panda Global Protection 2015 is lighter, more secure and more complete than ever before. In a word, it is clearly better. This is our opinion, and we expect our beta testers to confirm it", concluded Lambert.
Beta testers who want to submit suggestions, questions and comments to Panda Security can do so through the company's Beta Forum or via the following email address: beta@pandasecurity.com.