The new cloud-managed security solution, delivering protection for corporate environments against all types of Internet threats, includes new and powerful features to combat all types of attacks
Panda Security, The Cloud Security Company, has launched the new version 3.2 of Panda Cloud Internet Protection, the new cloud-managed security solution delivering protection for corporate environments against all types of Internet threats, including botnets, phishing, cross-site scripting and other advanced Web 2.0 attacks. It also includes monitoring and control of P2P protocols, even when encrypted, and protection for exploitable browser vulnerabilities.
The new version of Panda Cloud Internet Protection also delivers powerful access control features allowing companies to filter URLs and restrict access to social networks (Facebook, Twitter, Tuenti, YouTube, etc.), blogs or webmail, etc. This new solution offers three types of protection against such communities:
Prevention of infections from IT threats that spread across these types of platforms
Regulation of the use of these communities and corresponding bandwidth consumption
Detection and protection against data loss through HTTP/HTTPS (SSL) protocols, preventing sensitive corporate information from being published on Facebook or Twitter.
According to the "First Annual Social Media Risk Index for SMBs", published by Panda Security, the main concerns for SMBs with respect to social networks include privacy issues and financial loss (74%), malware infections (69%), loss of productivity (60%) and issues related with corporate reputation (50%), followed by network performance problems (29%).
Panda Cloud Protection managed security suite
Panda Cloud Internet Protection is included in the Panda Cloud Protection cloud-managed security suite. This cloud-based solution offers maximum protection, cost reduction and increased productivity. The solution can be deployed in just a few minutes and is managed simply and centrally through Panda's unique, intuitive cloud-based administration console.
Panda Cloud Internet Protection is sold on its own or as part of the Panda Cloud Protection suite, completing the cloud-based security lineup of Panda Security. The company's SaaS offer now covers all major infection vectors: workstations and servers are protected with Panda Cloud Office Protection; corporate email with Panda Cloud Email Protection, and now Internet protection is delivered by the new solution.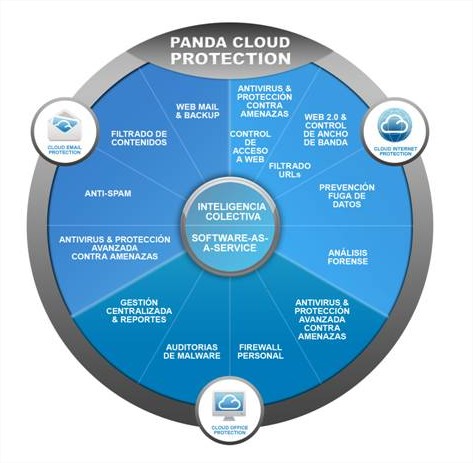 Panda Security's innovative cloud solutions have received numerous international awards and recognition, including the Wall Street Journal Technological Innovation award and the Cinco Días award for business innovation.
For more information and free trials, click here.