Latest version of the partner console is specifically designed to manage all of Panda Security's Cloud solutions
Panda Cloud Partner Center 2.2 enables simple customer lifecycle management from trial, to purchase to renewal
To use the solution, service providers just have to sign up to become an authorized partner at: https://www.pandasecurity.com/enterprise/solutions/cloud-partner-center/
Panda Security, the Cloud Security Company, today announced the release of its new 2.2 version of Panda Cloud Partner Center, an integrated solution for centrally managing computer security, which combines endpoint (servers, PCs and laptops) and email protection (for Exchange Server and cloud-based email). Panda Cloud Partner Center simplifies channel management through a central, Web-based console accessible from anywhere on the Internet.
Originally launched in May 2011, the partner center allows channel partners and service providers to grow their business by selling security software simply and with maximum vendor autonomy. With over a hundred new partners signing up with Panda Cloud Partner Center every month, the console lets service providers manage and monitor customers' lifecycle easier and take advantage of new business opportunities through better insight into license extension and cross-selling opportunities.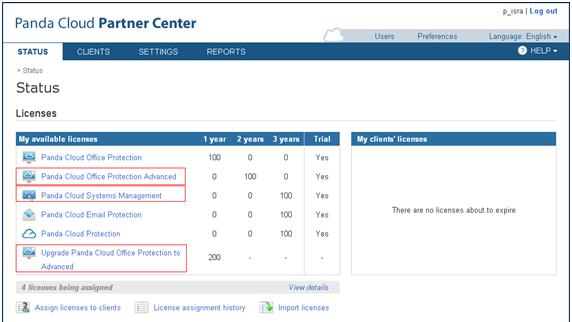 The new console includes a wide array of solutions and enables simpler customer management and support. In addition, it provides partners with an always up-to-date pool of Panda Cloud Office Protection, Panda Cloud Systems Management, and now Panda Cloud Office Protection Advanced licenses, enabling them to manage trial versions, full versions and renewals. They will also enjoy greater margins and discounts thanks to volume license purchasing, and will save time and money without costly onsite visits or management infrastructure overhead costs.
Partners will also benefit from exclusive special offers designed to increase customer loyalty and increase Partners revenue through upgrades and upsells. These offers will be of particular interest to Panda Cloud Office Protection customers who wish to also protect their Exchange Server enabling them to do so by upgrading to Panda Cloud Office Protection Advanced. The entire process is managed simply in a question of clicks from the Panda Cloud Partner Center console and all technical aspects are managed automatically and transparently to the Partner and end user.
This way, customers who choose to renew their Panda Cloud Office Protection licenses before their current subscription expires, will have the chance to have their licenses upgraded to Panda Cloud Office Protection Advanced. This will increase renewals and generate new revenue. Partners will also be able to view upcoming renewal information, managing them in advance and improving customer satisfaction.
Panda Cloud Partner Center simplifies access to information through custom reports and a full history of all license transactions (assignment and renewals). In addition, it generates automatic notifications about available licenses and licenses close to expiration, both through the console and via email. This simplifies IT security control, management, monitoring and maintenance tasks, while eliminating the need for onsite visits with its remote management capabilities.
Channel partners who want to sign up and benefit from the advantages offered by the new Panda Cloud Partner Center only have to contact the Panda Security sales team or visit https://www.pandasecurity.com/enterprise/solutions/cloud-partner-center/ for more information.