Incorporates new features such as a community-based firewall, fifty percent faster scans and a new disinfection engine
Panda Security and CNET team up to give away 5,000 licenses from www.download.com
Panda Security, The Cloud Security Company today announced the launch of version 2.0 of its popular cloud-based consumer antivirus service Panda Cloud Antivirus, both for its Free and Pro Editions. This new version is fully compatible with Windows 8 Release Preview and incorporates a new smart community-based firewall and many other improvements.
Since its initial release in 2009, millions of users around the world have benefitted from award-winning free antivirus protection and minimal resource consumption that Panda Cloud Antivirus provides via its Collective Intelligence technology.
Thanks to a new cloud-based disinfection engine, the new Panda Cloud Antivirus 2.0 offers even better malware detection and disinfection capabilities, as proven by tests conducted by renowned independent laboratories such as AV-Test.org and AV Comparatives.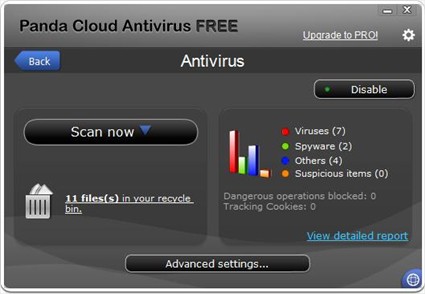 Panda Cloud Antivirus Free Edition optimizes security by adding behavior-based scanning technologies, a feature previously only available in the Pro Edition. Panda Cloud Antivirus 2.0 incorporates a series of improvements aimed at defending users against an increasingly sophisticated and diverse set of threats such as rogueware and ransomware; neutralizing malware capable of getting past antivirus programs; and adapting its scanning techniques and sensitivity to the risk posed by each malicious item.
Panda Cloud Antivirus 2.0 removes all malware traces after neutralization which increases its disinfection capabilities. Additionally, it has a lower impact on system performance, and scans more than 50% faster than earlier versions of the program in on-demand scans.
"The new version of Panda Cloud Antivirus improves disinfection rates and reduces the memory footprint" said Pedro Bustamante, senior research advisor at Panda Security.  "Thanks to the useful feedback of our beta tester community we have improved this product yet again, providing maximum PC protection and disinfection power with minimum impact on PC performance."
Panda Cloud Antivirus Pro Edition
Panda Cloud Antivirus Pro Edition includes all the features of the Free Edition plus a new smart community-based firewall that automatically stops intrusion attempts and data leakage. In line with the product's philosophy, the firewall minimizes user intervention by automatically managing application permissions based on the real-time knowledge gathered from Panda Security's global user community. The new firewall incorporates an intrusion detection system and adapts its behavior based on the network type the user is connected to (home, work, public place).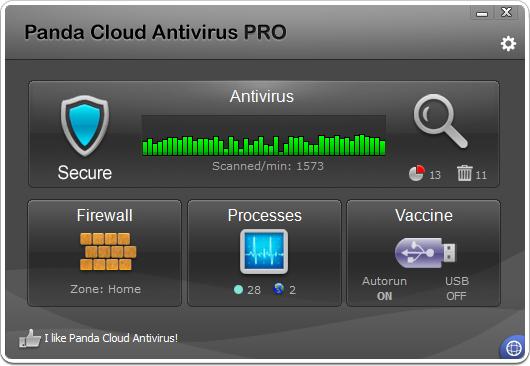 In addition, the Pro Edition includes 24×7 technical support and automatic USB vaccination against infections with autorun-based malware for €29.99. Existing Panda Cloud Antivirus users will be automatically upgraded to version 2.0.
To download Panda Cloud Antivirus 2.0 for free, please visit: www.cloudantivirus.com. To mark the launch of the new solution, Panda Security has teamed up with CNET, the popular download portal, to give away 5,000 1-year licenses of Panda Cloud Antivirus Pro Edition from: http://www.download.com