The new corporate solution protects Mac computers and servers
The centralized management console simplifies the task of deploying the solution across networks, implementing security policies and real-time monitoring of the network security status
It protects against all types of threats for Mac OS X and Windows in Mac desktops, laptops and servers and scans other Apple devices: iPhone, iPad and iPod
In 2010, 308 vulnerabilities were discovered in Mac OS X, 67% of these were classified highly critical
Panda Security, The Cloud Security Company, has announced the launch of Panda Antivirus for Mac Corporate Edition. This new solution delivers complete protection for corporate environments against all types of malware able to affect Mac OS, Mac OS X, Windows and Linux, protecting users not just against threats designed specifically to target the Apple platform, but also preventing Mac users from transmitting malware for other operating systems. This new solution protects Mac desktops, laptops and servers.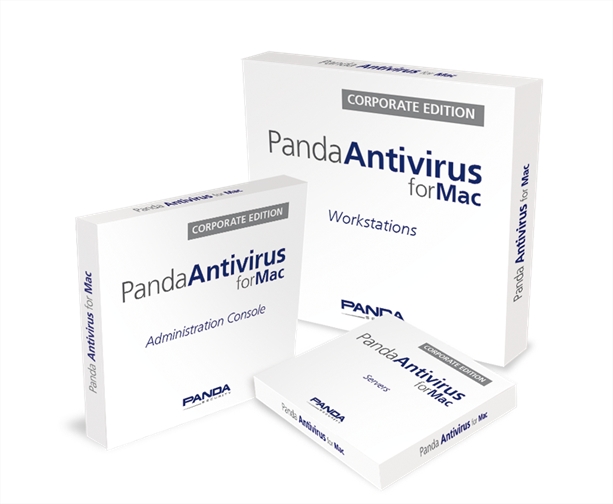 Panda Antivirus for Mac Corporate Edition includes a centralized administration console which simplifies the job of deploying the solution on computers and servers, and facilitates the implementation of security policies and real-time monitoring of security across corporate networks.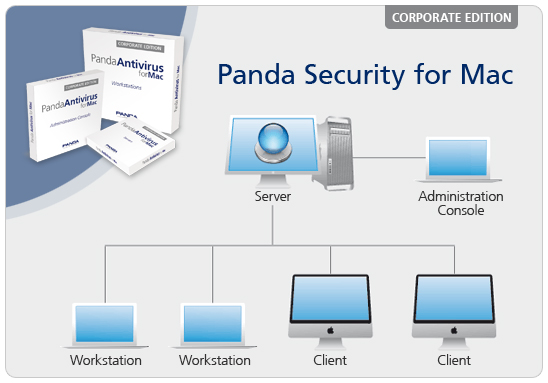 Panda Antivirus for Mac Corporate Edition protects against all types of threats in near real-time. It includes two scan engines, one to deliver on-access or resident protection and the other to perform on-demand scans. It can also scan Apple iPhone, iPad and iPod, thereby ensuring that if any of these devices is carrying malware, they won't infect other similar devices or the Mac computer or server.
It is also designed specifically not to impact performance, as it operates silently taking advantage of available resources or low workloads.
Panda Antivirus for Mac Corporate Edition scans folders, files and email, detecting and eliminating or blocking all types of threats, including Trojans, spyware, keyloggers, adware, hacking tools, botnets, dialers, scareware and other threats initially designed for Windows, but which also affect Mac, such as Macro viruses.
According to Bruno Rodríguez, Corporate Product Director at Panda Security, "Many companies, universities and other organizations now operate with a diverse network topology including Mac servers and workstations operating alongside Windows systems. In these environments it is very important not just to protect against specific threats that target Apple platforms, but also against those Windows threats that can be transmitted via Mac and infect all systems."
2010: A turning point for Mac security
In 2009 some 34 vulnerabilities were detected in Mac OS. According to Secunia, this figure rose to 308 in 2010, and 67% of these were classified as highly critical, indicating that any attacker could take remote control of unpatched systems, among other actions. The following table summarizes the real security threats implicit in these vulnerabilities: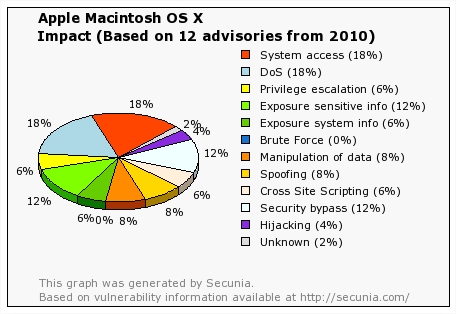 Moreover, 17% of these have still not been resolved.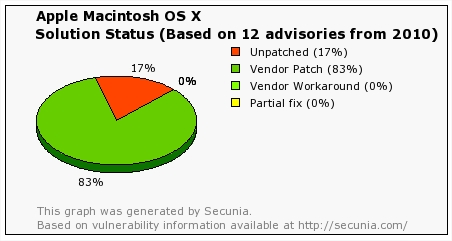 According to Luis Corrons, Technical Director of PandaLabs, "2010 has been an intense year for threats. We have collected over 20 million new examples of malware, and the figure continues to rise. Every day our laboratory receives some 63,000 new threats. Regarding Mac, we've seen an increase in the number of threats designed specifically for this platform, although there are many more that can affect corporate Mac users: all Office macro viruses, for example. And there are other types of threats to which all Mac users are exposed, such as phishing, or vulnerabilities in popular programs including browsers, PDF readers, etc."
Price and availability
The solution is available from February 1, 2011 for €20.95 per license for workstations, servers and the administration console (12 months with full services, for license ranges between 100 and 199 seats). Panda Security for Mac Corporate Edition is available in six languages: Spanish, English, French, Italian, German and Japanese (in the last three cases, just for workstations).