New version includes improvements suggested by the beta testing community
Beta testers with most helpful improvements each will receive $200 Amazon.com gift certificates; all testers will receive a 50 percent discount on the purchase of the final product
The beta, available in 23 languages, can be downloaded for free at: https://www.pandasecurity.com/promotions/betatest/
Panda Security, The Cloud Security Company, today announced the availability of Beta 2 of Panda Global Protection 2013, its comprehensive solution for protecting the information and digital life of home computer users. The new beta, which includes many of the improvements suggested by the Panda Security beta testing community, can be downloaded for free at https://www.pandasecurity.com/promotions/betatest/
The first beta of Panda Global Protection 2013 was tested by users from 129 countries and recorded 23 percent more activations than the 2012 version. The countries with most activations were Spain, USA, Brazil, Mexico, Russia, Peru, India, UK, Argentina and Vietnam.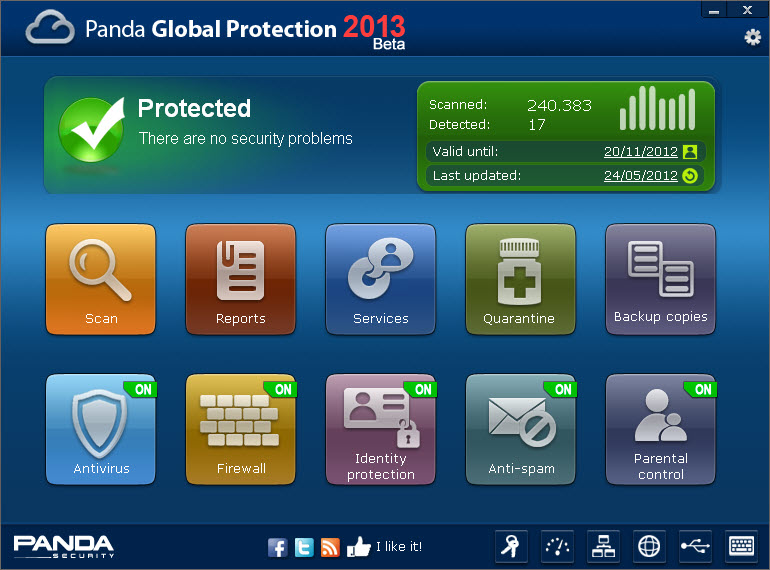 The new beta has two goals. Firstly, to reflect the constant search for continuous improvement in Panda Security's products. Secondly, to market a high-quality solution that satisfies user needs with the help of its beta testing users, who have the opportunity to try the product before its official launch. Thanks to their feedback, the company has been able to implement numerous activation, interface, design and usability enhancements in the beta launched in April.
The new version includes the following improvements:
Better malware detection
Improvements for several technology modules (TruPrevent, Web proxy and firewall).
Simpler and faster installation and activation processes.
Improved interface: Inclusion of new update buttons and the ability to access reports and statistics from the scan screen.
Better disinfection capabilities on Windows Vista, Windows 7 and Windows 8 (Consumer Preview).
Improved on-demand scanning by leveraging all the CPU cores.
Unlike the first version, the new beta release of Panda Global Protection 2013 is available in 21 other languages besides English and Spanish.
All users testing the Panda Global Protection 2013 Beta, both the new and the previous version, will receive a 50 percent discount on the purchase of the final product, and the ten beta testers suggesting the most helpful improvements will each receive a $200 Amazon.com gift certificate.
Panda Global Protection 2013 is the most comprehensive solution in Panda Security's new retail product lineup. The product leverages Panda's unique Collective Intelligence technology to collect threat intelligence from millions of computer users and deliver automated, instantaneous protection against known and unknown malware.
The new release builds on the core functionality that has positioned Panda Global Protection as the preferred solution among PC users. This includes a highly effective antivirus engine to protect against known and unknown malware; a firewall with Wi-Fi security to block intruders and hackers; Panda USB Vaccine to prevent USB devices from spreading infections; confidential information filters to keep personal data safe; backup and system recovery; and PC performance tuning. The new version includes a password manager: an encrypted password repository that protects users' digital identity and allows them to log into websites with just one click.
To download the free beta, please visit: https://www.pandasecurity.com/promotions/betatest/