The new range of retail solutions from Panda Security, The Cloud Security Company, is now available. Panda Global Protection 2014, Panda Internet Security 2014 and Panda Antivirus Pro 2014 are the names of the three products that make up the Retail 2014 range which, as this year's major innovation, include multi-platform protection for Mac and Android, in addition to Windows.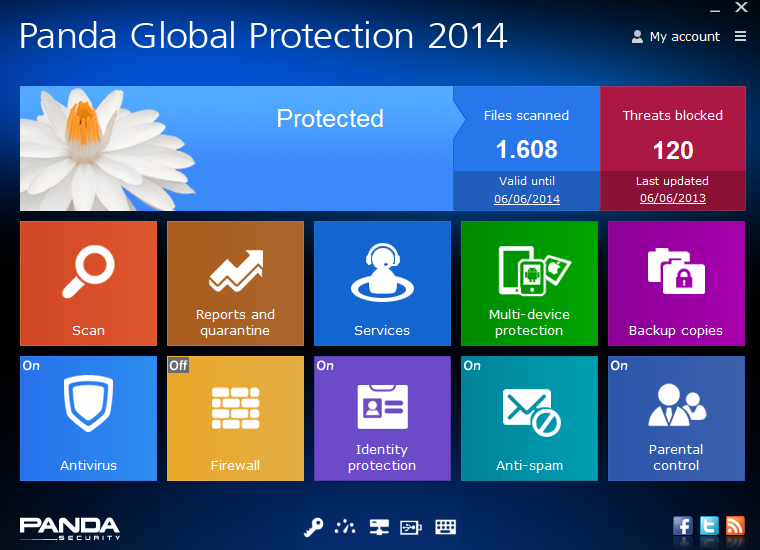 Designed to provide complete protection with minimum impact on PC performance, the new Retail 2014 solutions leverage all of the benefits of cloud-based security to tackle all types of threats from the digital world: viruses, hackers, online fraud, and identity theft, in addition to known and unknown threats.
"The new Retail 2014 range includes enhanced scanning, detection and disinfection so that users can keep their online identity completely out of danger," says Hervé Lambert, Retail Product Marketing Manager at Panda Security.
Ultimately, they are solutions that are easy to use, light, secure and built on Panda Security's Collective Intelligence system, which has extended its coverage to the multi-platform world thanks to the features included in Panda Global Protection 2014.
"During the first six months of the year, 17% more malware samples were created than in the same period last year, so the situation is not just dangerous but also, the degree of danger is increasing every month," explains Luis Corrons, Technical Director of PandaLabs at Panda Security. "Recently, Panda Security has noticed a gradual increase in attacks on mobile platforms, although there are significantly fewer than those against PCs. In any case, Android has become cyber-crooks' preferred mobile operating system.  Furthermore, there are more and more Trojans and malware in general that take advantage of these types of devices to infect PCs when they connect to them, adds Corrons.
Panda Global Protection 2014
The main innovations included in Panda Security's 2014 Retail range of solutions include multi-platform protection offered by Panda Global Protection 2014 for Windows (XP, Vista, Windows 7 and Windows 8); Mac, even Apple's mobile devices (iPad, iPhone and iPhone Touch), and Android (tablets, smartphones and even smart TV).
Designed for users with advanced needs, this new version of Panda Global Protection 2014 enhances the features that have made the solution one of the best security suites on the market, by providing higher protection against unknown malware and increasing the degree of disinfection of aggressive malware, like ransomware or rogue, which hijack computers or personal files. The identity protection, anti-spam, parental control, backup, remote access, optimization, file encryption and password management modules have also been optimized.
Panda Internet Security 2014 and Panda Antivirus Pro 2014
The 2014 edition of both Panda Internet Security and Panda Antivirus Pro boost their capabilities against viruses, hackers and other threats. In addition to these features, Panda Internet Security 2014 also provides options to protect the family, the user's identify and user data through parental control, remote access, removal of spam and backup with file restore, and other features.
Furthermore, although Panda Antivirus Pro is the most basic solution in the range, the truth is it is much more than a simple antivirus. It also provides rapid and intuitive protection and includes a firewall, virtual keyboard, home network management, a rescue kit and multimedia options, and other features.
Now available
The new products in Panda Security's 2014 retail range come with 12-months' protection and are now available in all major chain stores and retailers in Spain.
Furthermore, a free trial of the new 2014 solutions is available at https://www.pandasecurity.com/spain/homeusers/. Customers who want to buy Panda Security products online can do so through its website: pandasecurity.lin3sdev.com
Main features