Panda Security, The Cloud Security Company, today announced the release of Panda Cloud Office Protection (PCOP) version 6.5. This version provides significant technological and functional improvements compared to the previous one, including URL filtering; anti-exploit technologies to detect and remove malware that exploits zero-day vulnerabilities; compatibility with Exchange 2013 and the most popular Linux distributions (SUSE, RedHat, Debian and Ubuntu); and scheduled updates and reporting.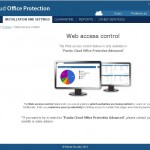 Panda Cloud Office Protection 6.5 improves business productivity by adding Internet access control to its Advanced edition. Additionally, the solution enhances corporate security by detecting malware and phishing URLs before they can infect users' computers. Also, and thanks to Panda Security's cloud-based technologies, Panda Cloud Office Protection 6.5 can be managed remotely from anywhere in the world.
"We aim to help companies increase their productivity with a solution that allows businesses to monitor and control employees' use of the Internet, while protecting them when they browse the Web or download contents," said Manuel Santamaría, Global Product Manager at Panda Security. "Our new solution facilitates security management and provides an additional layer of protection against malicious Internet links and exploits that take advantage of system vulnerabilities."
URL Filtering
Panda Cloud Office Protection 6.5 Advanced helps increase employee productivity by controlling Web access. It incorporates URL monitoring and filtering on workstations, and allows administrators to define profile-based whitelists and blacklists.
The solution's URL filtering feature provides maximum protection for users against malware and phishing URLs over HTTP and HTTPS, adding an additional layer of security to their Web browsing. This way, if a URL is cataloged as malicious, any attempt to access it or download any content from it will be automatically blocked by the system.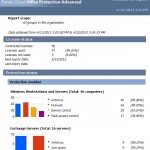 Protection Against Unknown Attacks
The growing proliferation of malware threats has shown that traditional, signature-based protection is no longer enough. Panda Cloud Office Protection 6.5 leverages Panda Security's Collective Intelligence system and incorporates new unmatched anti-exploit technologies which detect and neutralize malware that exploits zero-day vulnerabilities. 
More precisely, Panda Security's new anti-exploit technologies are capable of detecting malware like Blackhole or Redkit that exploits zero-day vulnerabilities in Java, Adobe or Microsoft Office, among others, before it infects users' computers. The solution's major differentiating factor lies in its ability to identify new, unknown malware variants capable of infecting thousands of computers around the world, like the infamous "Police Virus".
Other Major Improvements
The new Panda Cloud Office Protection 6.5 incorporates other significant improvements from the previous version. These include:
Compatibility with Exchange 2013 and the most popular Linux distributions (SUSE, RedHat, Debian and Ubuntu), plus scheduled and on-deman scanning.
 Scheduled updates for users of both Panda Cloud Office Protection and Panda Cloud Office Protection Advanced.
Ability to schedule reports from the Panda Cloud Office Protection console. Up to now, scheduled reports were only available to partners using Panda Cloud Partner Center.