Panda Security, The Cloud Security Company, today announced that Panda Cloud Antivirus Free Edition, the first free cloud-based antivirus, has achieved 100 percent detection rate in the Real World Protection test performed by AV-Comparatives.org in September 2013.
AV-Comparatives' Real-World Protection Test is the most comprehensive and complex test available when it comes to evaluating the real-life protection capabilities of antivirus software. Panda Security achieved a perfect score, outperforming solutions from 19 other antivirus vendors.
The test (whose results are available here) replicates the scenario of an everyday user in an everyday online environment (websites with malicious content or exploits, execution of email-borne viruses, etc.), measuring the ability of security solutions to remove active threats. In this case, Panda Cloud Antivirus managed to detect and remove 100 percent of the malware it was exposed to. 
"The excellent results obtained in AV-Comparatives' Real World test are very satisfying to us, as they recognize our efforts and success in offering products and technologies that adapt to malware evolution and respond to our customers' real needs", said Alberto Añón, Panda Cloud Antivirus Product Manager at Panda Security. "Our priority continues to be delivering maximum security through lightweight solutions with zero impact on system performance, thanks to our cloud-based malware scan and disinfection engine".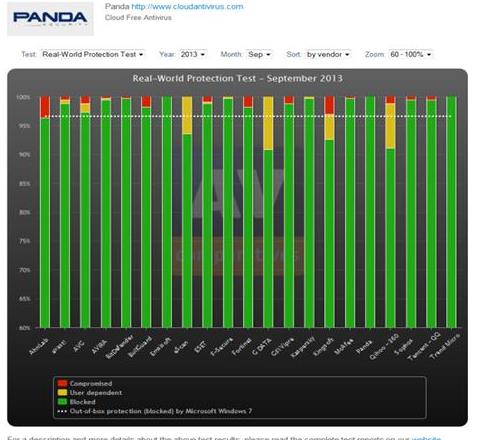 New Version of Panda Cloud Antivirus Now Available
The latest version of Panda Cloud Antivirus, version 2.3, is now available. This new version provides even better performance compared to the previous version, better support for Windows 8.1, as well as new anti-exploit capabilities against malware that exploits zero-day vulnerabilities in legitimate applications like Office, Adobe or Java to infect users.
Additionally, Panda Cloud Antivirus 2.3 includes the latest version of Panda Security Toobar, and fixes some bugs reported by the user community through the Panda Cloud Antivirus Forum.
To mark the launch of the new version, Panda also announced a special offer: Users who buy Panda Cloud Antivirus Pro Edition will receive a 50 percent discount on their purchase until November 22.
More information about Panda Cloud Antivirus here