The new 2013 products and free Panda Cloud Antivirus have received 'Windows 8 compatible' certifications from AV-Comparatives.org and AV-Test.org
Corporate solutions Panda Cloud Office Protection and Panda Cloud Systems Management also Windows8 compatible 
Panda Security, The Cloud Security Company, today announced that both its consumer and corporate solutions are fully compatible with Windows 8, ensuring that users of Microsoft's new operating system can benefit from its antivirus and network management software from the outset.
"For us, it is extremely important to be able to respond to users' needs", explained Pedro Bustamante, Senior Research Advisor at Panda Security. "Our product portfolio has been engineered to work with Windows 8, so if any of our customers decides to upgrade to Microsoft's new operating system they can rest assured they will enjoy maximum protection from day one."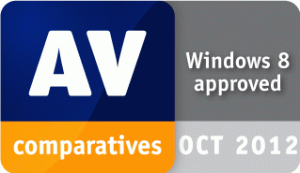 Panda Security's 2013 consumer solutions: Panda Antivirus Pro 2013, Panda Internet Security 2013 and Panda Global Protection 2013, are fully compatible with Windows 8. Additionally, they include a new, more modern and intuitive interface in line with the 'Metro' look and feel of Microsoft's new operating system. Similarly, the company's free cloud-based antivirus scanner, Panda Cloud Antivirus, also works with Windows 8. Panda Security's products have been certified as Windows 8 Compatible by independent testing labs AV-Comparatives.org and AV-Test.org in recent reports.
"In order that our users already know which products are compatible with this new operating system, AV-Comparatives keeps a list of compatible products. Panda was one of the first which gets certified by us and passed all test without any problems. Installation, stress test and real world protection features as well as static file detection, everything fulfilled our requirements" explains Andreas Clementi, Chairman of AV-Comparatives.
According to Andreas Marx "all Panda Security products passed with flying colors our compatibility and anti-malware tests on Windows 8". The CEO of AV-Test.org adds: "Our comprehensive Windows 8 tests focused not only on protection and repair aspects, but also on the impact on the usability of the entire system."
Finally, Panda Security's cloud-based corporate solutions also support Windows 8. Both Panda Cloud Office Protection (Standard and Advanced) and Panda Cloud Systems Management are optimized for the next-generation operating system.
For more information, please visit: https://www.pandasecurity.com/windows8