Latest beta release of world's fastest growing cloud antivirus service incorporates a smart community-based firewall and improved malware disinfection capabilities
Panda Security, The Cloud Security Company, today announced a new beta of its popular cloud-based consumer antivirus service Panda Cloud Antivirus, version 1.9.2. The beta, which will be the last version before the final release of Panda Cloud Antivirus 2.0, is fully compatible with Windows 8 and incorporates a new smart community-based firewall.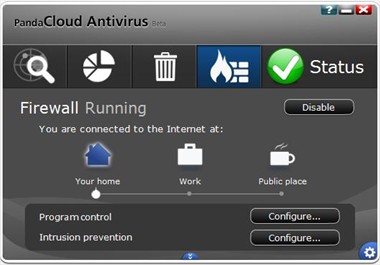 Panda Cloud Antivirus 1.9.2 fixes several bugs found in version 1.9.1 released in August 2011. It also incorporates a new, improved firewall with an intrusion detection system (IDS) and better rule configuration settings. Finally, the new version offers better malware detection and disinfection capabilities, lower impact on system performance and includes Google Toolbar.
"This beta version is the final step before the long-awaited 2.0 version of our free, cloud-based solution," explained Pedro Bustamante, Senior Research Advisor at Panda Security. "It includes all the improvements suggested by our user community in order to minimize intrusiveness and provide maximum protection with the least impact on PC performance. Panda Cloud Antivirus has always stood out as being one of the lightest solutions on the market, and we continue to provide it with a lighter footprint in each new version".
"Making Panda Cloud Antivirus and our 2012 consumer solutions compatible with Windows 8 Release Preview was important to ensure that users of Microsoft's new operating system benefit from the best protection against malware," Bustamante said.
For more information and to download the free beta, please visit: http://blog.cloudantivirus.com/2012/06/04/panda-cloud-antivirus-beta-1-9-2/