Panda Security has revolutionized the market with a global security solution
Panda Security has simplified its cybersecurity offering, bringing together its product range in Panda Dome, a single, 100% customizable platform that adapts to the needs of users throughout all stages of their lives.
Panda Dome, as the name suggests, provides a resilient yet flexible security 'dome' to protect its users. It affords them global protection against any threat as well as adapting to any phase of their lives as well as to their pockets.
This flexibility, in particular, is achieved thanks to the extent to which Panda Dome is customizable. It has four plans, along with independent modules that users can subscribe to in order to ensure their protection is tailored to their specific needs.
These solutions have been designed with the security requirements of each user in mind, and have adapted accordingly over the years. As such, features can be added and removed with a single click. A free VPN is also included in the solutions, from the most basic Panda Free Antivirus, to all the other plans.
The 'Essential' plan is designed for those who want to use the Internet securely and protect their Wi-Fi networks. The 'Advanced' plan is oriented towards the stage of life in which people bank online and are concerned about the security of the whole family. The 'Complete' and 'Premium' plans, meanwhile, are aimed at protecting data against all types of attacks, and to safeguard security and privacy on multiple devices. Moreover, the 'Premium' plan includes the complete version of the VPN feature, with more than 20 virtual locations to guarantee complete privacy, thanks to the private data tunnel, along with many other advantages.
"Just as when you're 20, you can get around town perfectly with a motorbike or a bicycle, at 40 you'll probably be looking for a family car. This is the philosophy on which we have developed Panda Dome, to adapt flexibly to what our users need at all times in their lives," explains Herve Lambert, Global Consumer Operations Manager at Panda Security.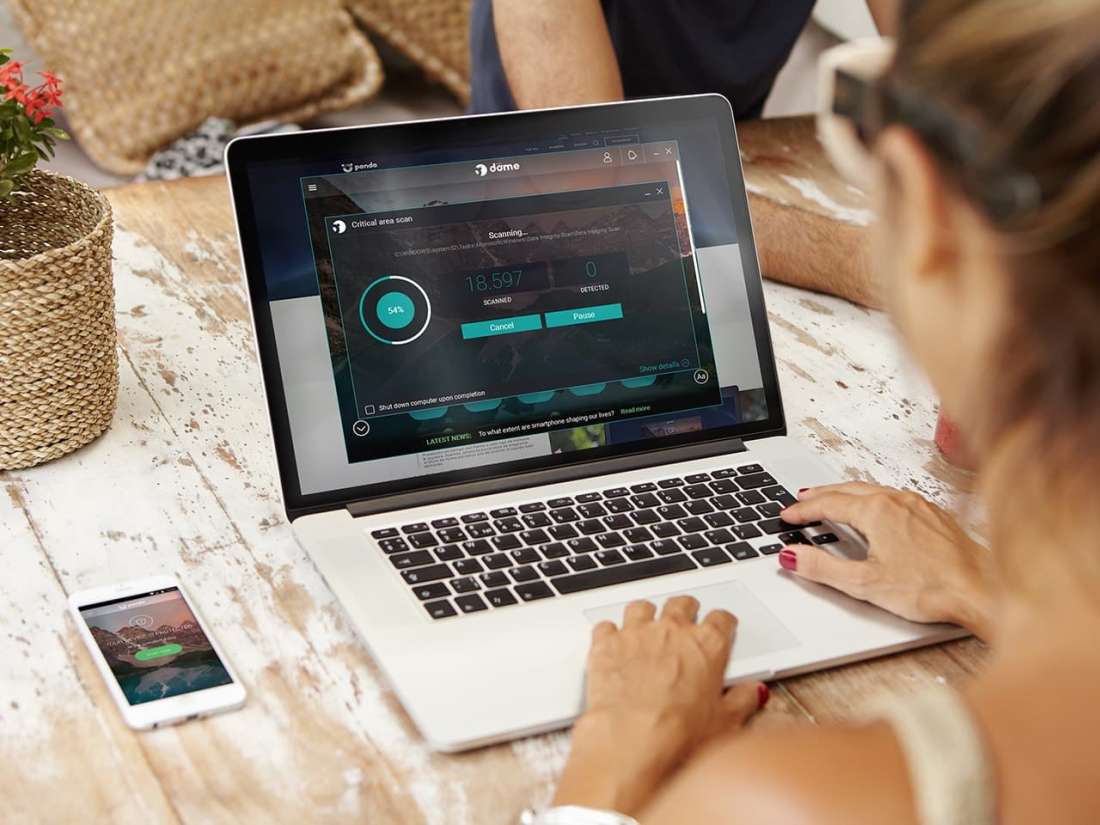 Modules that go beyond security
The degree to which Panda Dome can be personalized becomes even greater with the modules. A series of features can be easily added or removed, so for example, a Premium VPN module can be added to any of the four plans.
Users who add this VPN module will be able to remain anonymous on the Internet, choosing their virtual 'location' in order to access any type of online service via any place in the world, from their own home.
The other two modules currently available are CleanUp: a system to speed up, clean and increase the life and performance of PCs, and TotalCare: a 24/7 premium tech support service designed to resolve any domestic IT problem. This is a solution developed by Panda Security's partners within the context of an application marketplace that will continue to grow in the coming months.
Focus on Big Data and Artificial Intelligence
Panda Dome can also detect attacks before they occur, which represents an unprecedented revolution in the cybersecurity market. It is more effective in detecting threats and consumes far fewer resources on protected devices.
This is smart technology that uses Big Data and Artificial Intelligence to offer comprehensive security for individuals and families, as well as for freelancers and SMEs. This new technology is another example of the excellence in detection that Panda Security has been demonstrating for years now and for which it was awarded the 'GOLD seal of approval' by the independent laboratory AV-Comparatives in its 2017 Real-World Protection Test.
An excellent product, according to users
Panda Dome is a service that has been designed and created by Panda Security users for Panda Security users. After two years of market research, the company based in Bilbao, Spain was rated as 'excellent', with a score of 9 out of 10, by the more than 6,000 consumers surveyed.
"We have created a security dome that comprehensively protects people and their families, adapting to their digital lives, not just to their devices. Nowadays, we have more and more devices connected to the Internet, including televisions, coffee machines or even smart refrigerators. It is no longer sufficient to think only about mobile phones, wearables or computers when addressing our digital security," says Herve Lambert, Global Consumer Operations Manager at Panda Security.