Latest Virus Bulletin review allows for cloud-based scanning and showcases Panda Security's superior detection capabilities
Panda Cloud Antivirus Pro is one of the 34 certified solutions (out of 51 tested products)
Panda Security, The Cloud Security Company, today announced that Panda Cloud Antivirus Pro has been awarded VB100 certification after being tested alongside 50 other antivirus solutions in Virus Bulletin's recent independent comparative review on Windows 7.
VB100 certification is granted to products that prove a 100% detection rate for malware samples listed as "In the Wild" by the WildList Organization. To display a VB100 logo, a product must generate no false positives when scanning an extensive set of goodware samples. The comparative review was conducted on a system running Windows 7 Professional. Testing was made up of three main parts: on-demand tests, on-access tests, and false positive tests. Panda Cloud Antivirus Pro obtained a 100% perfect result in the on-demand and on-access tests, as well as zero false positives.
Additionally, Panda Cloud Antivirus Pro recorded an installation time of 30 seconds, the fastest of all tested products. Virus Bulletin also praised the product's interface and ease of use.
Commenting on securing the VB100 certification, Pedro Bustamante, Senior Research Advisor at Panda Security, said: "We are delighted to take part once again in Virus Bulletin's comparative reviews, following their decision to allow cloud connection in their tests. Panda Security is a pioneering company in cloud-based computer security for consumers and businesses, and this certification recognizes our success in offering lightweight solutions with the best possible disinfection rates."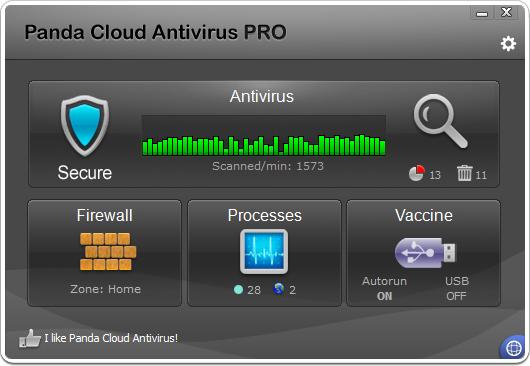 Panda Cloud Antivirus Pro 2.0, launched in July, is the first 'in the cloud' security service offering online and offline protection for home users. It includes a personal, community-based firewall to prevent unauthorized access to users' computers and data leaks, s as and offers 24×7 technical support and automatic USB vaccination to protect against auto-executable malware.
This certification continues the trend of recognition for the company's free cloud-based solution Panda Cloud Antivirus after the certifications granted by the independent labs AV-Test.org and AV-Comparatives earlier this year. More information on those tests is available at: https://press.pandasecurity.com/news/panda-cloud-antivirus-ranks-1-in-usability-in-recent-av-test-org-evaluation/ and https://press.pandasecurity.com/news/panda-cloud-antivirus-achieves-highest-advanced-rating-from-av-comparatives/
For more information about Virus Bulletin's test results and methodologies, please visit  http://www.virusbtn.com/vb100/archive/test?recent=1. The full report can be read in the August 2012 edition of Virus Bulletin.
For more information about Panda Cloud Antivirus, please visit http://www.cloudantivirus.com/.  A free 6-month trial of Panda Cloud Antivirus can be downloaded from the product's Facebook page.