Panda Cloud Antivirus Free Edition is the only free solution to achieve this result, outperforming Avira, AVG, Avast and others 
Tested version 2.0.1 offers better malware detection and disinfection capabilities thanks to a new cloud-based detection engine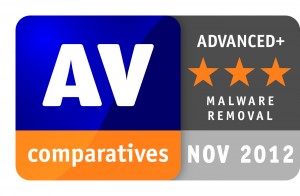 Panda Security, The Cloud Security Company, today announced that Panda Cloud Antivirus Free Edition has earned another Advanced+ rating in the latest independent tests by AV-Comparatives.org. The tests evaluated the malware removal/cleaning capabilities of 13 antivirus solutions, out of which only three obtained the highest award.
Panda Cloud Antivirus Free Edition was the only free antivirus solution to achieve the Advanced+ rating (3 stars) in the malware disinfection test, performing better than solutions from Avira (Advanced rating – 2 stars), and AVG and Avast (Standard rating – 1 star).
This seal is the result of the technological improvements included in the 2.0 version of the product: a new and more complete disinfection engine with heuristic capabilities which increases the capacity of completely disinfect the PC that enables it to fight against new malware even before it is known. The new Panda Cloud Antivirus also includes disinfection routines from the cloud, allowing Panda Cloud Antivirus to be more flexible and efficient cleaning all traces of malware.
"We are happy and impressed to see that Panda has improved its disinfection capabilities tremendously in the last few months, especially in the area of dangerous malware families such as rogue AV and others tested by AV-Comparatives.org.This indicates a very good focus by Panda in dealing with the most problematic malware for end users and companies," explained Andreas Clementi, Chairman of AV-Comparatives.org.
The AV-Comparatives.org test examined malware removal and disinfection capabilities, evaluating the solutions' actual ability to eliminate malware strains from infected or compromised systems, including the infamous 'Police Virus'. The full report is available at: http://www.av-comparatives.org/comparativesreviews/removal-tests/246-removal-test-november-2012
"This certification is the result of the excellent work done by everyone in the PandaLabs and Development teams," said Pedro Bustamante, Senior Research Advisor at Panda Security.  "Our priority in the last few months has been to further improve detection and disinfection ratios with a new cloud-based engine, and winning this award has proven that it was well worth the effort."
Panda Cloud Antivirus Free Edition 2.0, which launched last July, incorporates a series of improvements aimed at defending users against an increasingly sophisticated and diverse set of threats such as rogueware and ransomware; neutralizing malware capable of getting past antivirus programs. Additionally, it optimizes security by adding behavior-based scanning technologies, a feature previously only available in the Pro Edition (paid version), and removes all malware traces after neutralization which increases its disinfection capabilities. Finally, it has a lower impact on system performance, and scans more than 50 percent faster than earlier versions of the program in on-demand scans.
Since Cloud Antivirus' initial release in 2009 as the first free 'in the cloud' security service for home users, millions around the world have benefitted from its award-winning free antivirus protection and incredibly lightweight footprint. The latter is a major benefit of Collective Intelligence, Panda's proprietary technology for automatically collecting and processing millions of malware samples in the cloud instead of locally on the user's PC.
For more information about Panda Cloud Antivirus or to download the product, please visit: http://www.cloudantivirus.com