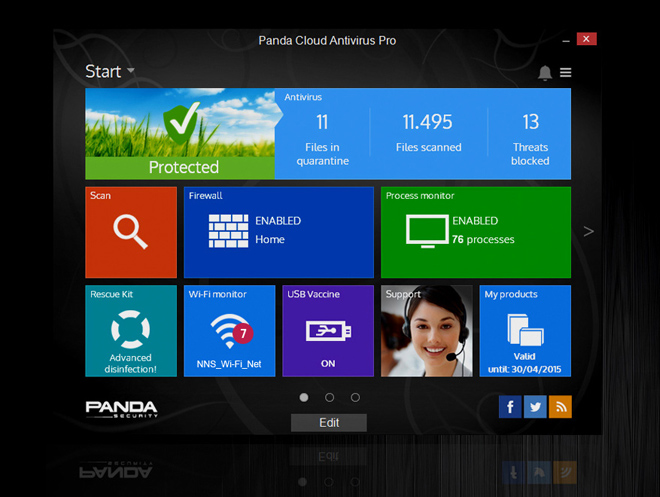 Good news! The new Panda Cloud Antivirus 3.0 is now available to you!
After a successful beta period in which the product was downloaded more than 30,000 times by users from more than 130 countries, we are pleased to announce the new version of Panda Cloud Antivirus.
Panda Cloud Antivirus 3.0 provides significantly improved protection against new threats and exploits that take advantage of system vulnerabilities, as well as automatic USB vaccination, a feature which was previously restricted to Pro users only and is now available to all users.
Also, the solution includes a Rescue Kit extremely useful in emergency situations caused by malware infections, and a more powerful process monitor.
The latest evaluation and certification report published by the prestigious IT security institute AV-Test rates Panda Cloud Antivirus as the best free antivirus solution. The product obtained top ratings in the protection (6/6) and ease of use (6/6) areas, without a single false positive.
New Features
– Ability to run scheduled scans, a feature strongly demanded by our community.
–New Panda Account: A personal area where users can download their products, manage their services, obtain documentation, access technical support through a new support forum, and manage their Android devices provided they are protected with Panda Mobile Security.
– VIP support for users of the Pro version. The Pro version comes with a new Wi-Fi monitor which enables users to display a list of all devices that are currently connected to their network and find out if there is someone stealing their Wi-Fi.
All these improvements make the new Panda Cloud Antivirus 3.0 lighter and more complete than ever.
Want to try the best free antivirus on the market?
[button url="http://www.cloudantivirus.com/en/" style="red"] Try Panda Cloud Antivirus! [/button]