update 2018
Panda Free Antivirus has evolved!
Now with your free antivirus protection you can also enjoy a VPN with 150/MB per day in order to surf and unblock all the contents of the Internet.
Plus, we have free technical support!
Do you have a problem with your computer that you need to fix? Panda Free Antivirus offers free 24/7 technical support to solve all the issues with your devices, printers, etc…
Find the phone number of your country and call us NOW!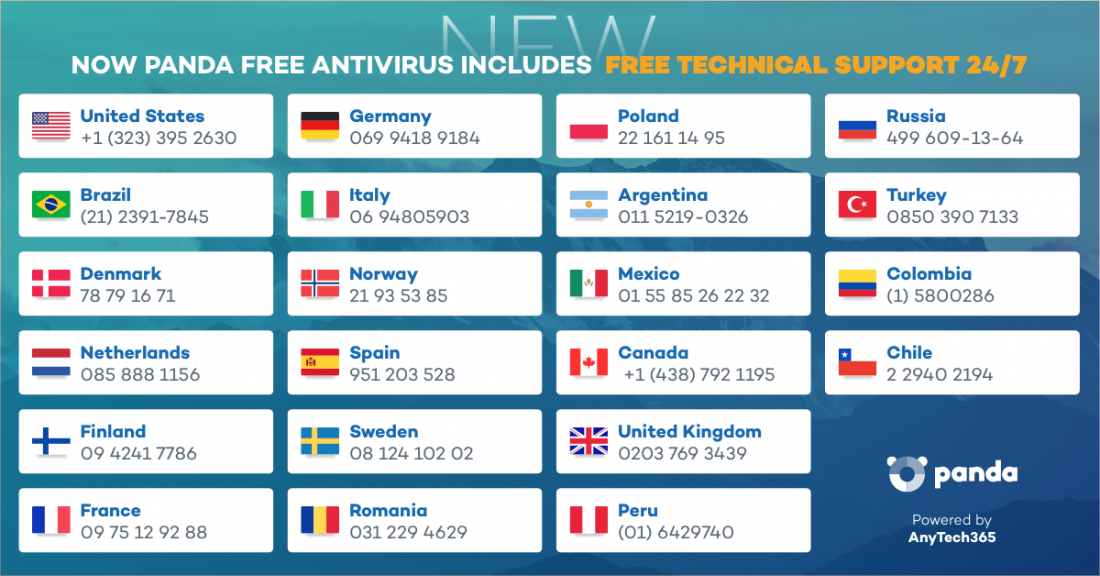 ———————————————————-
To coincide with the launch of the Panda Security 2015 consumer products, Panda Cloud Antivirus FREE Edition is from today the new Panda Free Antivirus, and as such joins the family of consumer products from Panda Security.
Why have we changed the product name?
Panda Cloud Antivirus was launched in 2009 as the first free cloud-based antivirus. This was an innovative approach at the time that broke with the traditional signature-based model, and allowed us to offer a solution with high detection capabilities yet with a minimal impact on computer performance.
Over time we have been proven right, and in recent years we have seen how the security industry has been forced to adapt their solutions and to evolve towards cloud-based technologies. Today, practically all security solutions use cloud-based technologies to one degree or another for detecting threats.
Over these last five years, the product has continuously evolved, increasing its capacity to counter new malware and protecting millions of computers around the world. The offline cache of active malware signatures, heuristic technologies, behavioral protection, USB drive vaccine and the anti-exploit technology are just some of the improvements that we have introduced in new versions to ensure maximum protection even when a computer is not connected to the Internet.
Such evolution has led to our creation of the XMT engine, a technology that has helped Panda achieve the best results in the latest comparative tests by independent laboratories.
From today, this XMT engine will be available in all Panda Security consumer products. Panda Free Antivirus now joins Panda Antivirus Pro, Panda Internet Security, Panda Global Protection, Panda Gold Protection and Panda Mobile Security, as the free antivirus solution from Panda Security.
Why 15.0?
All the Panda Security 2015 consumer solutions share the same version number, 15. As such, Panda Free Antivirus will also use this version number, which explains the leap from version 3.0.
And Panda Cloud Antivirus Pro Edition?
Panda Cloud Antivirus Pro Edition will be replaced by Panda Antivirus Pro 2015. Product users will be automatically upgraded to the new version, and will benefit from the new features in Panda Antivirus Pro 2015 while enjoying the same resource-friendly, maximum protection level as before.
Once again, we offer our sincere thanks to all those users who have helped us build this product. Thank you and enjoy the new Panda Free Antivirus!!