Panda Security, The Cloud Security Company, today announced that Panda Cloud Antivirus Free has been awarded VB100 certification after being tested alongside 40 other antivirus solutions in Virus Bulletin's April comparative review on Windows XP SP3. This is the third consecutive time that Panda Security has obtained this certification for Windows platforms.
VB100 certification is granted to products that prove a 100% detection rate for malware samples listed as "In the Wild" by the WildList Organization with zero false positives. The comparative review was conducted on a system running Windows XP SP3. Testing was made up of three main parts: on-demand tests, on-access tests, and false positive tests. Panda Cloud Antivirus Free obtained a 100% perfect result in the on-demand and on-access tests, as well as zero false positives.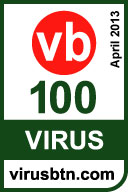 Lightweight, Fast scanning with Minimum Consumption
The tests showed that Panda Cloud Antivirus Free was one of the best-performing free antivirus products available, outperforming other solutions from Avast, AVG and Microsoft. Virus Bulletin also praised the product's high scanning speed, and recognized it as the free solution with the lowest CPU and memory consumption and one of the lightest of all tested products.
In addition, Virus Bulletin highlighted the product's straightforward interface, the wide variety of features it offers despite being free, and the ease of use provided by its cloud-based technologies.
Commenting on achieving the VB100 certification, Alberto Añón, Panda Cloud Antivirus Product Manager, said, "We are delighted to have obtained three VB100 certification on different Windows platforms in less than a year. This new certification showcases the high quality of our products, and recognizes Panda Security's efforts and success in offering lightweight solutions with maximum protection capabilities like Panda Cloud Antivirus".
More information on those tests is available here