Finally the new Panda Cloud Antivirus beta is here, getting us closer and closer to the expected Panda Cloud Antivirus 2.0 release. Version 1.9.1 incorporates a full fledged firewall with application and system rules. This new firewall and its settings is available from a new tab off the main GUI.
The full firewall included in this beta version is a smart community-based firewall which will automatically assign inbound and outbound communication privileges to processes. The automatic assignment is performed depending on its risk assessment as well as the direction of the communication which is being initiated. So if an OUTBOUND connection is being made by a Secure or Low Risk process, the process is allowed to communicate automatically. Alternatively if a process is deemed riskier, a prompt will ask the user to choose whether to allow or block the communication. A similar although stricter approach is used for INBOUND connections.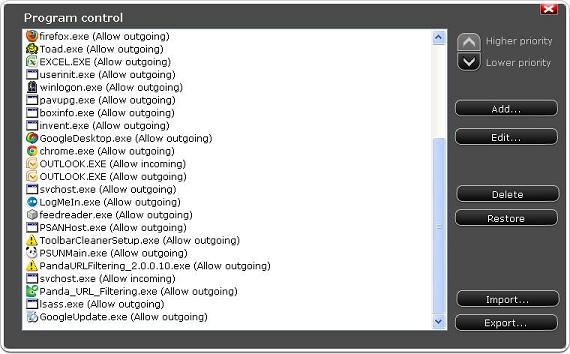 The risk assessment of executed processes is shown in the Process Monitor window of the main GUI as shown in the first picture of this blog post. This is calculated automatically based on many different conditions, such as safe lists, digital signatures, telemetry and prevalence, automated analysis of processes, etc.
However users can also manually manage the firewall rules by adding new ones, editing, deleting, importing and exporting rules and prioritizing certain rules over others. This is easily done from the Program Control window under the firewall tab of the main GUI as shown in the next picture.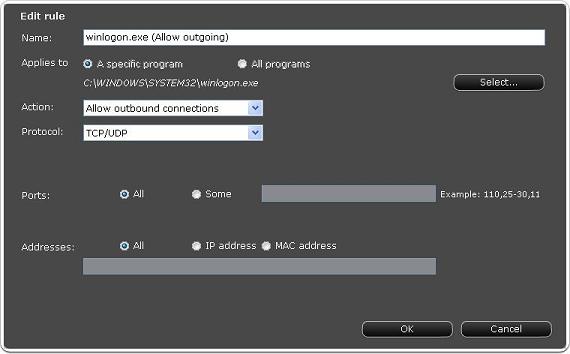 Finally there's also a lot of improvements in the antivirus part of the program, as always targeted at making Panda Cloud Antivirus even lighter and faster, as well as a usual batch of bug fixes. The full changelog can be seen below.
Changelog
* Firewall application rules for programs which can access the network or Internet.
* Firewall system rules for all programs.
* Firewall rules priorities.
* Automatic management of rules based on analysis and Process Monitor.
* Notifications of connection attempts and ability to create rules to allow or deny connection.
* Ability to import and export rules.
* Notifications in the event report of connection attempts which have deny rules.
* Additional types of cloud-queries for suspicious malware.
* Optimized Behavioral Analysis engine, both On-Demand and On-Access
* Improved cache of already scanned items to increase scan speeds and lower performance impact.
* Change GUI icons for Recycle Bin and Firewall.
* Added shield exclusions for Panda Cloud Office Protection processes.
* Signed drivers for installation and upgrade.
* Updated Panda Security Toolbar to 2.0.0.17 with Firefox 5.0 compatibility.
* Fixed behavioral blocking engine FP with OpenOffice.
* Fixed wrong translations on the context menu "Scan with Panda Cloud Antivirus" entry.
* Fixed incorrect message "incompatible AV" in installer.
* Fixed problems displaying the installer with non-default display settings.
* Fixed BSOD with NNSHttp.
* Fixed BSOD with NNSPrv.sys
* Fixed problems with lost connectivity after install.
* Fixed error 513 with diagnostic tool NetDiag.
* Fixed problem analyzing some compressed files inside compressed archive.
* Fixed problem with Panda Cloud Antivirus Service stability.
Download
http://acs.pandasoftware.com/cloudantivirus/beta19/PandaCloudAntivirus.exe
Again thanks to the more than 16.000 beta testers so far who are helping us create a really stable Panda Cloud Antivirus 2.0. Please test this new beta version as much as possible and don't forget to report back.