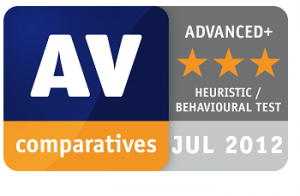 Being the first free cloud-based antivirus, we sometimes read people's comments and posts about Panda Cloud Antivirus requiring an active Internet connection to be effective. While we've always said that this is not the case due to the way we've architectured the cloud-based protection, these comments are sometimes still posted by people who are not familiar with the product.
AV-Comparatives.org just released the results of their "Retrospective Test" which basically freezes AV products without allowing them to update their signatures nor connect to cloud-based scanning services, and tests them against new viruses.
While the concept of testing against Internet-enabled viruses without Internet connectivity is somewhat unrealistic, we are happy to announce that even without Internet connectivity Panda Cloud Antivirus achieved the highest rating "Advanced+" given by AV-Comparatives.org. Even without Internet connectivity Panda Cloud Antivirus provided better offline detection than non-cloud free products from Avira, AVG and Microsoft.