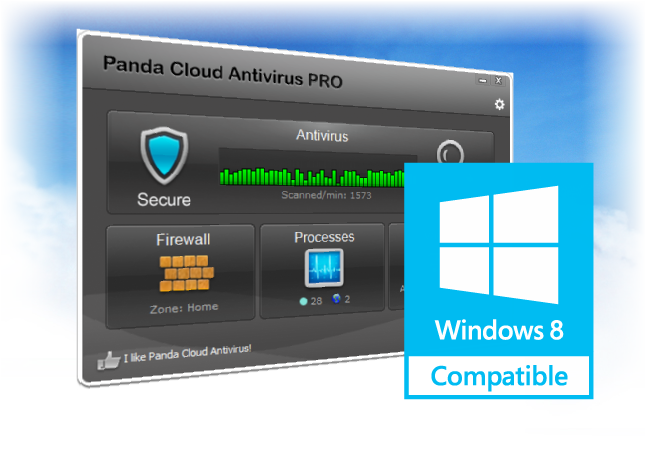 We are happy to announce the availability of Panda Cloud Antivirus version 2.1.1!
If you are reading this post after seeing a "Panda Cloud Antivirus has upgraded automatically!" message on your Desktop traybar, then you already have the latest version installed and running, and you don't have to do anything else. If your version of Panda Cloud Antivirus hasn't upgraded yet to version 2.1.1, don't worry. As we are releasing the automatic, transparent upgrade little by little, your copy of Panda Cloud Antivirus will upgrade itself automatically in a few days.
Quality of this new version comes guaranteed by the "Windows 8 Compatible" logo. After passing the requirements for Windows 8 operating system compatibility, Panda Cloud Antivirus 2.1.1 earned the compatibility certification and the right to display this logo which recognizes the effort done by the team to offer our Community a certified security solution with the best protection and minimal resource consumption in all compatible platforms.
Version 2.1.1 is a maintenance upgrade from version 2.1. It includes improvements to the Panda Cloud Antivirus heuristic technologies and to new anti-exploit protection, and fixes some bugs reported by the user community. The bug fixes are the following:
Fixed problem with "blocking of files until results are returned from the cloud – time settings".
Fixed problem under certain situations when GUI console was not opened.
Fixed some linguistic errors.
Fixed problem with promotional banner under certain situations after upgrading to Panda Cloud Antivirus PRO Edition.
Fixed information shown (remote IP address) in firewall popups.
Remember that if you have any problems with Panda Cloud Antivirus, you can always ask for help at our Technical Support Forum.