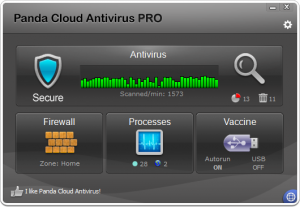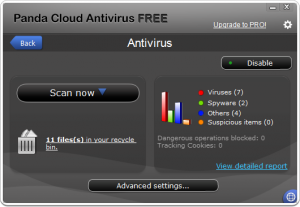 Panda Cloud Antivirus 2.0 is finally here!!!
After a really long beta with over 165.000 active beta testers from over 176 countries we are happy to announce that Panda Cloud Antivirus 2.0, the first free cloud antivirus, is finally available for download.
The main new features which Panda Cloud Antivirus 2.0 incorporates over the existing 1.5.2 version are the following:
Community-based firewall (pro edition only).
New cloud-based disinfection engine.
New behavioral analysis engine in the free edition.
Improved offline protection.
Process monitor allows seeing Internet connections on a per process basis.
Improved performance and 50% faster scans.
New advanced configuration options such as asking for confirmation before neutralizing.
Compatibility with Windows 8.
New interface.
Ability to manage different licenses.
Finally Panda Cloud Antivirus 2.0 incorporates dozens of bug fixes and minor improvements suggested by all of you and by our strong community of testers and bug reporters at the Panda Cloud Antivirus Support Forum.
How to get a free Panda Cloud Antivirus 2.0 PRO Edition license key

We are so excited with this new Panda Cloud Antivirus 2.0 that we are giving away free licenses!!!
First off if you have the beta 1.9.2 installed you will be automatically upgraded to Panda Cloud Antivirus 2.0 Free Edition. As our thanks to you for helping us during the beta testing period we will be sending out PRO license keys to active beta-testers.
If you don't have the beta installed that's OK too. We have partnered with the great guys and gals over at www.download.com and they are giving away 5.000 Panda Cloud Antivirus 2.0 PRO Edition license keys. Hurry up and get yours before they run out of them!
How to install Panda Cloud Antivirus 2.0
If you already have an existing version of Panda Cloud Antivirus you don't need to do anything. The new Panda Cloud Antivirus 2.0 will automatically upgrade your existing version.
All existing Panda Cloud Antivirus 1.5.2 and beta versions (1.9.2) both in Free and Pro Editions will upgrade automatically and transparently to the new Panda Cloud Antivirus 2.0. This might take a few days as we are deploying the upgrade progressively.
If you don't want to wait for the automatic and transparent upgrade you can head over to www.cloudantivirus.com right now and download the new 2.0 version and install it on top of your existing Panda Cloud Antivirus.
If you are reading this because you saw a "Panda Cloud Antivirus has automatically upgraded" message from your traybar, then you already have the latest 2.0 version.
Again our most sincere thanks to all the users worldwide who have helped us develop this great cloud antivirus. As always you can find us at the Support Forum in case you have any questions, problems or simply want to talk to us.