Panda Security announces that Panda Adaptive Defense 360 has been certified as a Silver security solution by OPSWAT in their Anti-malware certification category.
OPSWAT developed the Certified Security Application Program in 2007, after compiling the compatibility requisites of over 50 OPSWAT OEM clients, including industry leading NAC, CASB, SSO, and SSL-VPN solutions from providers such as Citrix, Pulse Secure, Cisco, IBM, and Dell.  The program currently supports over 1,000 security applications, which are rigorously tested to guarantee their compatibility with the leading access control solutions.
The certification obtained by Panda Security in the OPSWAT Program certifies Panda Adaptive Defense 360 as a compatible advanced cybersecurity solution that incorporates Endpoint Protection and Endpoint Detection and response (EDR), along with 100% Attestation and Threat Hunting & Investigation services.
Cristina Stet, Certification Manager at OPSWAT, said, "Panda Security is helping to lead the way in endpoint security including antivirus and EDR, and we're excited to award the Silver certification for compatibility with industry leading NAC, CASB, SSO, and SSL-VPN solutions."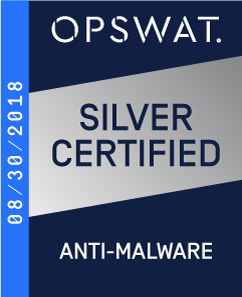 Panda Security is a leading provider of latest generation endpoint security. OPSWAT awarded Panda Security the certification after determining that its advanced cybersecurity solution, Adaptive Defense 360, met a series of strict compatibility criteria. This compatibility guarantees that a security solution can be detected, classified and shown on the network administrator's management console from over 200 million endpoints.
Thus, Panda Security emerges as the leading European manufacturer of EDR systems, and also has OPSWAT's distinguishing recognition as a certified provider. The products that receive the OPSWAT Silver certification, like Adaptive Defense 360, are highly compatible with market leading NAC and SSL VPN solutions, such as Citrix Access Gateway, Juniper Host Checker, and F5 FirePass®, among others. Silver certified products can be detected by these technology solutions, and some remediation and evaluation actions are supported. "We are very satisfied with this OPSWAT certification; it reinforces Panda Adaptive Defense 360 as a cutting edge solution for corporate endpoints, which must have the highest guarantees when it comes to allowing access to the network, and must ensure that the endpoints have latest generation protection," states Juan Santamaría, Panda Security CEO.
OPSWAT recommends that all providers of security solutions get to know their certification program in more detail, and that they get the latest versions of their products certified before they are launched. IT administrators can also use OPSWAT's list of certified security applications as a resource before acquiring a security solution.
About OPSWAT
OPSWAT is a global cyber security company providing solutions for enterprises since 2002 to identify, detect, and remediate advanced security threats from data and devices coming into and out of their networks. Trusted by over 1,000 organizations worldwide for this secure data flow, OPSWAT prevents advanced security threats across multiple channels of file transfer and data flow with flexible options of MetaDefender solutions and API-based development and threat intelligence platforms. With over 30 anti-malware engines, 100+ data sanitization engines, and more than 25 technology integration partners, OPSWAT is a pioneer and leader in data sanitization (Content Disarm and Reconstruction), vulnerability detection, multi-scanning, device compliance, and cloud access control. To learn more about OPSWAT, please visit www.OPSWAT.com.