One year ago we decided to 'shake' the market a bit, and we released Panda Cloud AV, the first antivirus based on the cloud, and for free 🙂 All this made a lot of noise then. Of course, it was a beta version, and little by little we've been improving it according to the requirements of the community. Several months ago, we released the version 1.0, leading to the end of the beta, and it continued being free, of course!
From the very first moment "attacks" against this type of technologies based on the cloud started to emerge. Obviously no technology is perfect, but some are better than others, and this can hurt when it is having a negative impact on your market share 😉 Anyway, I'm not going to get into this, as Pedro explained it crystal clear in his post "Arguments against cloud based antivirus"
During these months, Panda Cloud Antivirus has participated in several comparative tests, in which you have to prove that your technology really works and users are properly protected. If I say that we're very good, it's worthless, as my opinion can't be very objective 😉 so, it's better to see what has happened during this time and which position we've obtained in different comparatives carried out by the most important and famous antivirus test labs in the industry: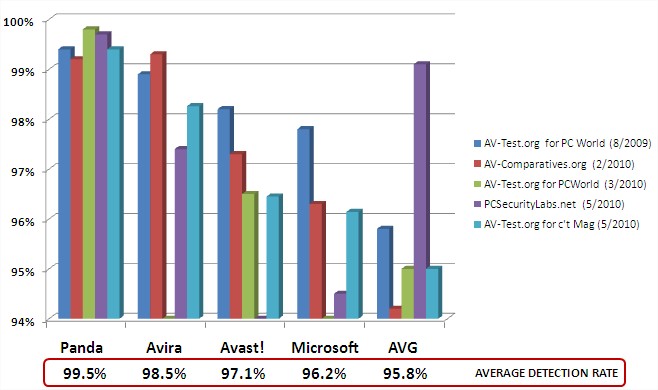 As you can see, I can't complain 😉 but even so, there are important points to improve. What has been worrying us from the beginning is that nowadays besides protecting users against all the known attacks, you must be proactive and able to stop attacks never seen until now. In that respect, we came across 2 big objections: on the one hand, Panda Cloud Antivirus did't have the TruPrevent technologies, famous for blocking new attacks. And on the other, in order to prove this proactivity the tests are carried out in isolated environments, where the cloud (Collective Inteligence) is not available. A 99,99% of the attacks occur when we're connected to the Internet, so it's not a very realistic scenario, and implies a disadvantage with regards to other competitors which only use local (traditional) technologies. Last week the German magazine c't magazine published the results of a test, in which among other things they tested the proactivity of different free solutions. And this was the result: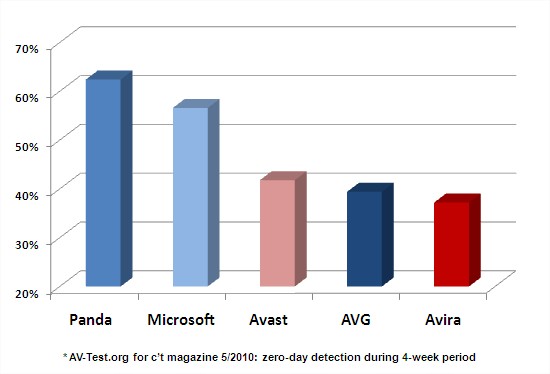 Even so, you may have the best technology of the world, but your product is not that good, so let's see what the different media that have tried it think: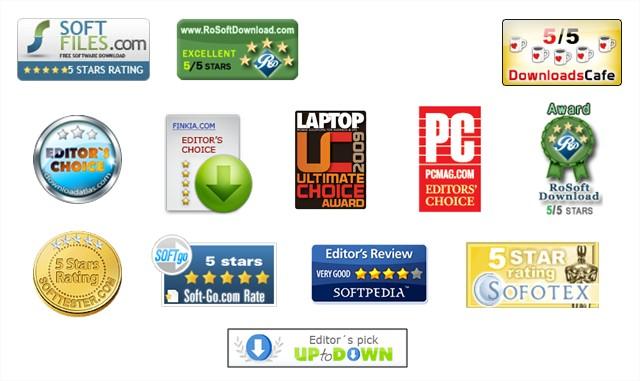 Well, it seems that the media like it as well. Anyway, except for the personal pride, this is not what we're aiming at. What we want is to protect users, as long as they want, of course. And how have me managed in this field? Well, 10 million users in 192 countries is not a bad result, don't you think so? 🙂
Yes, I know, I'm delighted, if I continue being like this, I think that there will be a smile on my face forever and ever 🙂 Oh well, you may be probably wondering why the title of the post is "Oops, we did it again!". Well, my mum has always told me that I have ants in my pants, that I cannot be without doing anything, and probably that's why I consider working at Panda as a hobby more than a job. And as we cannot keep still, today we have something new to announce:
A new Panda Cloud Antivirus, version1.1, with new characteristics, some of them are:
– Behaviour blocking
–  PC vaccination (bye, bye, USB worms 😉
–  20 different languages (yes, 20!)
–  And of course, 100% free, as always
I won't mention the rest of features, as I don't want you to get tired of reading 🙂
And apart from this new version, as we have so much time and if we don't do anything, we get bored, we've decided to launch a new product:
Panda Cloud Antivirus Pro!!!!!!
And what can offer us this tiny thing? Basically it is similar to Panda Cloud Antivirus, but with some additional features:
–  Behaviour analysis
– Automatic USB vaccination
– Automatic & Transparent Upgrades
– VIP Support
It's pretty good, isn't it? Well, the bad thing is that it's not free, but either we charge something for what we do, or our dear CEO @juansantana will kick my ass 🙂
Where can you find any of the 2 versions? At www.cloudantivirus.com
I recommend you to download and try the free one, and then you can decide whether you choose this or prefer the Pro.
By the way, I forgot to mention something… any of the 2 versions can be installed without having to uninstall your current antivirus. We're cool, aren't we? 😉
Panda FTW!!!!