The Collective Intelligence database, Panda Security's system for automatically detecting, analyzing and classifying files, now holds 134 million samples, 60 million of which are malware (viruses, worms, Trojans and other threats)
Between January and October this year, hackers have created 20 million new variants, the same amount as in the whole of 2009
The average number of threats received every day by PandaLabs has risen from 55,000 to 63,000
According to PandaLabs, Panda Security's anti-malware laboratory, in the first ten months of the year the number of threats created and distributed account for one third of all viruses that exist. These means that 34% of all malware ever created has appeared in the last ten months. The company's Collective Intelligence database, which automatically detects, analyzes and classifies 99.4% of the threats received, now has 134 million separate files, 60 million of which are malware (viruses, worms, Trojans and other threats).
In the year up to October, some 20 million new strains of malware have been created (including new threats and variants of existing families), the same amount as in the whole of 2009. The average number of new threats created every day has risen from 55,000 to 63,000.
This would all suggest that the cyber-crime market is currently in rude health, although this is also possibly conditioned by the increasing number of cyber-crooks with limited technical knowledge who are turning their hand to these activities.
This also means that although more malicious software is created, its lifespan is shorter: 54% of malware samples are active for just 24 hours, as opposed to the lifespan of several months enjoyed by the threats of previous years. They now infect just a few systems and then disappear. As antivirus solutions become able to detect new malware, hackers modify them or create new ones so as to evade detection. This is why it is so important to have protection technologies such as Collective Intelligence, which can rapidly neutralize new malware and reduce the risk window to which users are exposed during these first 24 hours.
Despite these dramatic numbers, the speed with which the number of new threats is growing has dropped since 2009. Since 2003, "new threats have increased at a rate of 100% or more. Yet so far in 2010 the rate of growth is around 50%", explains Luis Corrons, Technical Director of PandaLabs.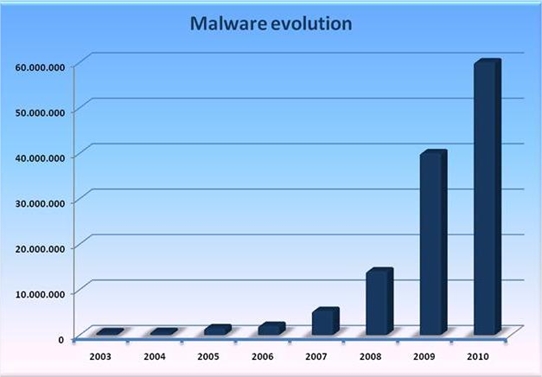 "This doesn't mean that there are fewer threats or that the cyber-crime market is shrinking. Quite the opposite; it continues to expand, and by the end of 2010 we will have logged more new threats in Collective Intelligence than in 2009. Yet it seems as though hackers are applying economies of scale, reusing old malicious code or prioritizing the distribution of existing threats over the creation new ones", adds Corrons.
More information is available in the PandaLabs Blog.