At RSA 2019, Panda Security has received a NSS Labs Recommended rating in the 2019 Advanced Endpoint Protection Group Test.
Iratxe Vázquez, Product Marketing manager of Panda Security, expressed her satisfaction with the results, and stated that, "Throughout the long, intense evaluation process, Panda Adaptive Defense 360 and its integrated services have consistently demonstrated what we hear from our customers: that our solution is among the most efficient against any kind of cyberattack: with or without malware, known or unknown, with traditional techniques or next generation."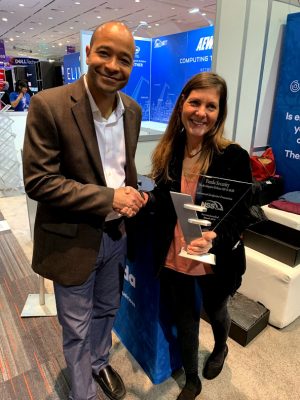 On top of the exhaustive EDR monitoring capabilities, two completely managed services are provided at no extra cost. These services are based on scalable cloud based machine learning technologies that automate and accelerate the process of identifying threats, without the need for customer intervention.
About Panda Security
At Panda Security we help companies to protect themselves against advanced threats and new attack techniques. Consistently maintaining our spirit of innovation, at Panda we have marked a number of historical milestones in the industry. Today, we are the leading European vendor of EDR systems, with 100% European shareholders, headquarters, technology and cloud platform.
Thanks to our visionary concept of the advanced cybersecurity model, which combines solutions and services, we are able to provide a completely detailed visibility of all endpoint activity, absolute control of all running processes, and the reduction of the attack surface.
According to Iratxe Vázquez: "We are one of the few endpoint security vendors that use advanced machine learning and deep learning techniques to classify threats via thousands of static, contextual, and behavioral attributes. All of this is done from the cloud, which provides a virtually infinite processing capacity, in real time and without cost to our customers."
About NSS Labs:
NSS Labs, Inc. is recognized globally as the most trusted source for independent, fact-based cybersecurity guidance. Our mission is to advance transparency and accountability within the cybersecurity industry. Our unmatched foundation in security testing, along with our extensive research and global threat analysis capabilities, provide the basis for NSS Labs' Cloud Platform for Continuous Security Validation.
This cloud platform empowers enterprises with objective, empirical data and allows them to gain continuous visibility, gather actionable insights, and rationalize investments in their cyber programs. The cloud platform lets enterprises know where they stand by continuously validating the effectiveness of their security products and assessing the impact of unmitigated risks to the enterprise stack. This gives business leaders the relevant information they need to substantiate their security investments.
CISOs, Chief Security Architects, SOC and Threat Analysts, and information security professionals from many of the world's largest and most demanding enterprises rely on trusted information from NSS Labs.