Finally the full report of the comprehensive Full-Product Test from German independent antivirus tester AV-Test.org is out.
Panda Internet Security has received excellent scores in all categories, accomplishing top rank along with two other vendors. According to Andreas Marx, CEO of AV-Test.org, "Panda Internet Security was one of only three products which was able to receive the highest scores during this exhaustive test which was performed over a period of 12 weeks".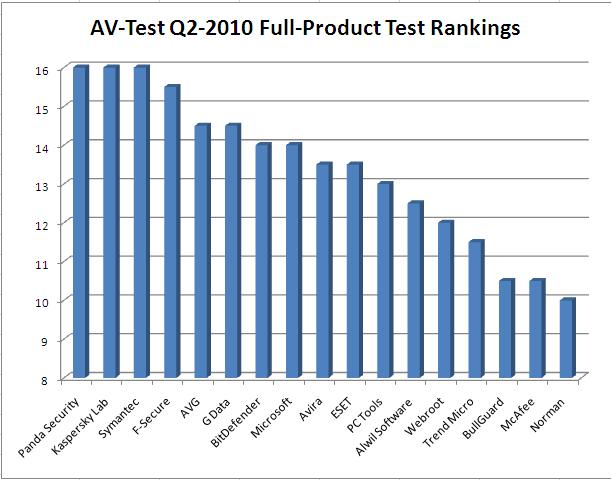 The Full-Product Test is a very extensive test which looks at many different aspects of a security solution:
Real-World Testing – protection against 0-day and web/email malware
Dynamic (Behaviour) Detection Testing – blocking of malware on execution
Detection of Large Malware Collection – testbed from last 3 months' malware
Detection of Widespread Malware – based on WildList criteria
Repair and removal of widespread malware
Removal of malicious components and remediation of system modifications
Detection of hidden active rootkits
Removal of hidden active rootkits
Average slow-down of the computer
False positives during static on-demand scanning
False positives during dynamic on-access scanning

The complete report can be download from the AV-Test.org website or from our server here.
Some additional comments from AV-Test.org regarding Panda Internet Security:
Panda Internet Security showed impressive high results for the static and dynamic detection of new malware.

The detection and removal of actively running stealth malware such as rootkits was no problem for Panda Internet Security, but for many other reviewed products.

We tested not only the protection against known and unknown malware, but also the removal of critters which had previously infected the system and Panda Internet Security received 5.5 out of 6.0 possible points in these two category, the highest scores archived by a program during this exhaustive review.

Not only the protection against and removal of new malware was very high, but at the same time Panda Internet Security had less impact on the system from the usability point of view.