•    New solutions feature 50 percent improvement in performance when running on Windows 7 environments
•    With Collective Intelligence, Panda's expanding global network of users continuously improves protection against known and unknown malware
•    They include a series of new features: home network management, intelligent updates, gaming/multimedia mode, file encryption, virtual keyboard and sandbox browsing.
Under the slogan 'Protect your online world', Panda Security, The Cloud Security Company, today released its new 2011 consumer product line, featuring even faster performance, better protection and less resource impact over previous versions. Panda's new retail solutions, available immediately for online purchase, include: Panda Internet Security 2011, Panda Global Protection 2011, Panda Antivirus Pro 2011 and Panda Internet Security for Netbooks. New features include remote access to home PCs from anywhere, file shredding of deleted programs, a secure browser and much more.
All of the 2011 consumer solutions benefit from Panda's Collective Intelligence technology, which leverages the network of millions of global users, the Power of Community, to deliver instantaneous protection against new and unknown threats. Using these solutions, consumers can browse the Internet, make purchases online, chat and share photos/videos with complete confidence that Collective Intelligence and the Power of Community are providing proactive and real-time protection against the latest malware threats. In addition, PC resource consumption is minimal and the 2011 solutions boast a 50 percent improvement in performance on Windows 7 environments when compared to last year's versions.

Pics available at: http://www.flickr.com/photos/panda_security/4830596644/
http://www.flickr.com/photos/panda_security/4829984215/
http://www.flickr.com/photos/panda_security/4830595926/
http://www.flickr.com/photos/panda_security/4829982695/
The products are designed specifically for highly active users with the most demanding protection needs, and include many new features, such as the option to manage home networks, or run the protection in gaming/multimedia mode, to avoid interruptions for gamers.
Similarly, the interfaces have been simplified and made more intuitive across all the products, and the top of the range solution includes a series of utilities to transparently safeguard the digital life of users:
–   Remote access –  Lets you access your home or work computer from anywhere and share files securely across the Web.
–    Virtual browser (sandbox) –  100% secure, based on a network of virtual machines running under Linux and without persistent memory storage.
–    Virtual keyboard – To prevent passwords and other sensitive data entered on keyboards from being stolen with keyloggers.
–    File encryption –  Keeps files safe from snoopers
–    Definitive data removal –  Elimination of all traces of deleted files or programs.
The new solutions maintain the features that have positioned them as market-leading security suites: a powerful antivirus engine to protect against all types of known and unknown viruses; firewall with WiFi security to block intruders and hackers; Panda USB Vaccine, to protect USB devices; confidential information filters to keep personal data safe; backup copying, as well as a PC tune-up feature to optimize system performance.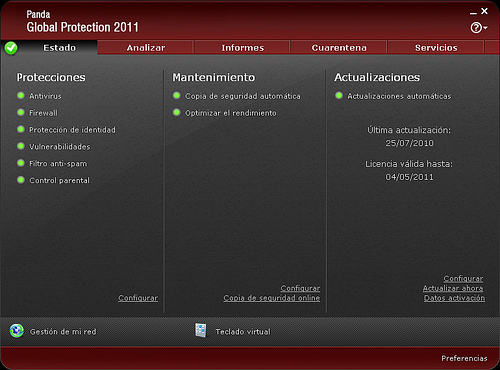 Image available at: http://www.flickr.com/photos/panda_security/4829984267/
Availability
The new 2011 solutions are available from the Panda Security website (ESD version) and will shortly be available from major retailers and specialist stores. Version are available for 1 or 3 computers, with varying prices.
Free trial versions and product information are available from: https://www.pandasecurity.com/homeusers/downloads/.
About Panda Security
Founded in 1990, Panda Security is the world's leading provider of cloud-based security solutions, with products available in more than 23 languages and millions of users located in 195 countries around the World. Panda Security was the first IT security company to harness the power of cloud computing with its Collective Intelligence technology. This innovative security model can automatically analyze and classify thousands of new malware samples every day, guaranteeing corporate customers and home users the most effective protection against Internet threats with minimum impact on system performance. Panda Security has 56 offices throughout the globe with US headquarters in Florida and European headquarters in Spain
Panda Security collaborates with Special Olympics, WWF and Invest for Children as part of its Corporate Social Responsibility policy.
For more information, visit https://www.pandasecurity.com/
For more information:
communication@pandasecurity.com
Tel. +34 91 806 37 00