Whether you've recently upgraded to Windows 10 or you're thinking about it, a good question to ask is, "Do I need antivirus software?". Well, technically, no. Microsoft has Windows Defender, a legitimate antivirus protection plan already built into Windows 10.
However, not all antivirus software are the same. Windows 10 users should examine recent comparison studies that show where Defender lacks effectiveness before settling for Microsoft's default antivirus option. 
An AV Comparatives 2017 study shows Windows Defender falls behind other antivirus software in protection, usability, and performance. Defender also lacks consumer-friendly features that are growing in popularity — like password managers and a built-in virtual private network (VPN).
Overall Protection: Defender Falls Behind Other Software
Any antivirus software needs a good protection rating. Detecting and eliminating malware threats is the primary consideration. Be aware of future trends in malware attacks and choose antivirus software based on its ability to defend against growing threats such as zero-day attacks and ransomware.  
The AV Comparatives study tested 17 major antivirus software brands and ran from July to November 2017. Defender received an overall protection rating of 99.5%, falling behind seven other cybersecurity software.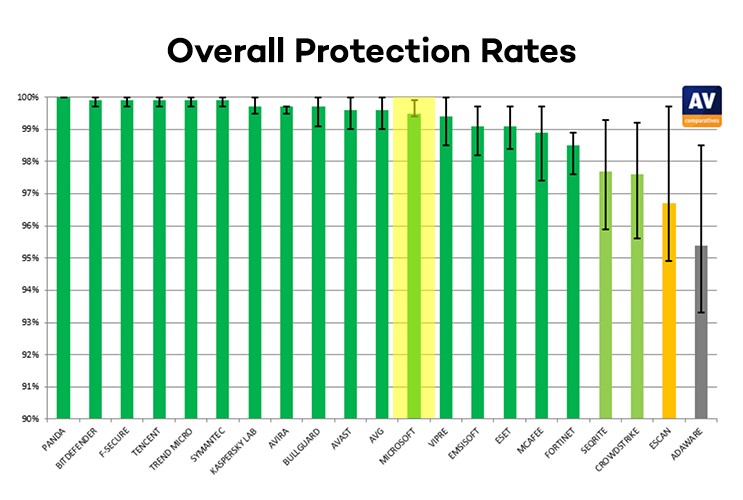 Another 2017 study by the IT-Security Institute showed Defender falling behind other antivirus software in preventing zero-day malware attacks. Zero-day attacks happen the same day developers discover a security vulnerability, and they're growing in popularity among cybercriminals.

The IT-Security Institute's test results (for July and August) showed Defender as only 97.0% effective against zero-day malware attacks, 2.5% below the industry average. The difference may seem small, but the stakes are high for zero-day attacks. It only takes one ransomware or botnet attack to hijack your computer or steal your identity.  

Defender causes usability problems
All antivirus software impacts how you use your computer because it scans all of the websites, files, and other software your system interacts with. With antivirus software, consumers want the most protection with the least interference. Compared to other antivirus products, Defender struggles to stay out of your way.
False positives
When antivirus software scans files and websites for potential threats, they can mistakenly flag some as dangerous. These "false positives" can get really annoying because they block access to safe websites or stop the installation of legitimate software. These issues can slow you down and are distracting.
The AV Comparatives study (below) found Defender had a higher false positive rate compared to the majority of major antivirus software packages.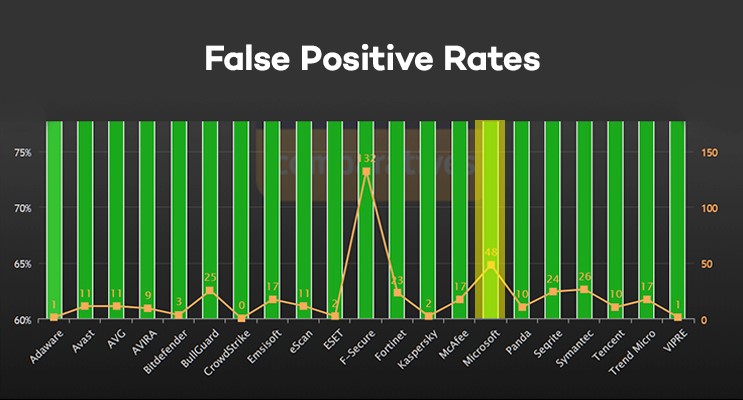 Defender struggles particularly with flagging legitimate software as malware. The IT-Security Institute's tests showed Defender having a higher than average rate of false detections for safe software. Users who want to get around this issue by lowering Defender's protection settings become more vulnerable to real malware attacks.
Defender's performance
All antivirus software slows down your computer at least a little. After all, it takes computing power to scan all of the bits of information running through your computer's processor, but a bulky or inefficient antivirus package can mean slower website loads, crawling status bars, and sluggish software launches.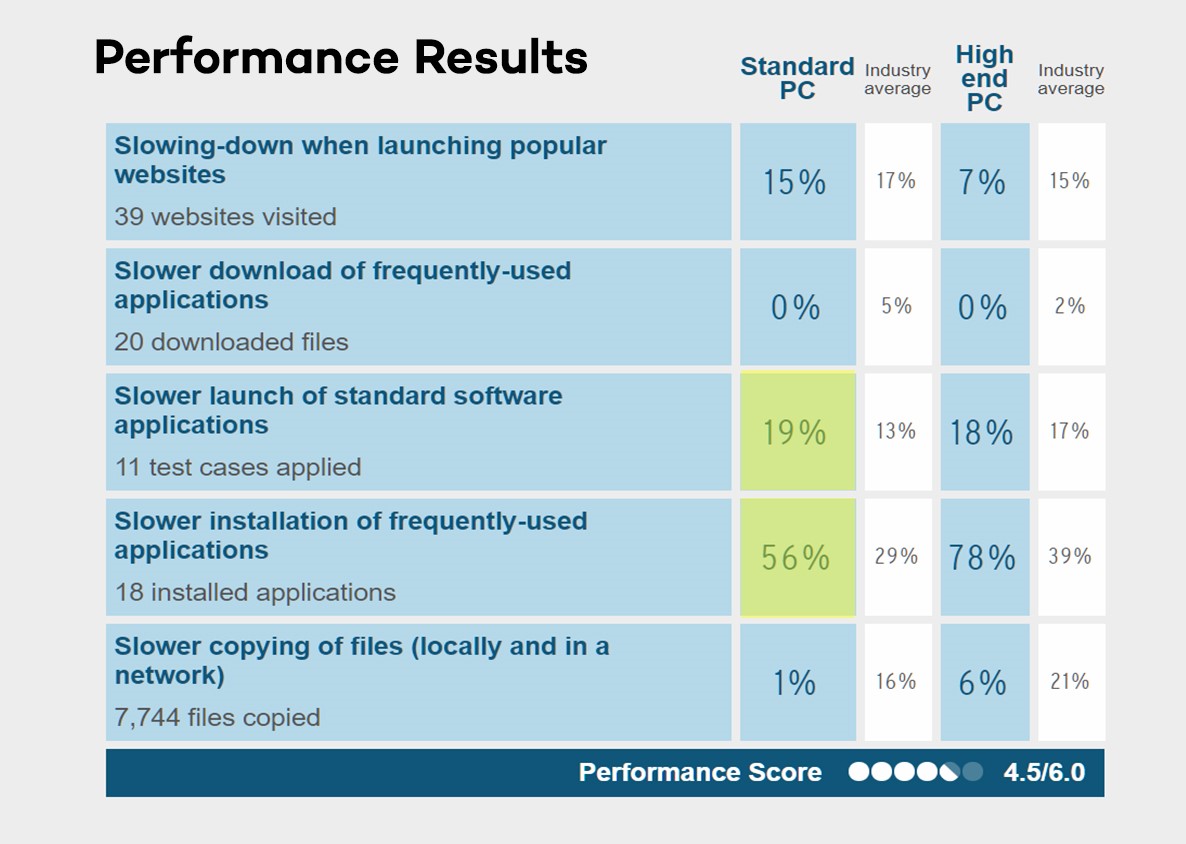 The IT-Security Institute's test results (above) showed Defender scoring below industry average for standard software application launches and frequently used applications. Its performance score was 4.5 out of 6.0.
Defender will make your favorite programs run slower when you use your computer at home. If you own a business, your employees will be slowed down too. Overly burdensome antivirus software coupled with outdated computers means a loss of worker productivity and revenue.
The Problem with Standard Antivirus Protection
Fans of Defender point out that  it comes standard with Windows 10, which means no extra software to download and install onto your computer. Pre-installed standard software is convenient from a usability perspective, but it also leaves you more vulnerable to attack.
Cyberthieves make Defender a priority one target because it works the same for every computer. Any standard way to doing anything makes it easier to predict and circumvent. Defender is no exception. Hackers make sure they're malware designs can avoid Defender's basic detection and take advantage of its vulnerabilities. Less standard antivirus software take unique approaches to finding and eliminating viruses—approaches difficult to predict.
To protect yourself, your family, and your devices, you need the best free antivirus protection available. While some users may still see Defender as a viable option based upon their specific needs, they're trading convenience for effectiveness — a luxury with personal and financial costs that increase every year.