As we told you in the post Instagramming any normal day at Panda Security, courses are periodically held at Panda. Well, this week there was a course on social media at the headquarter offices of Panda Security in Bilbao. The course was taught by one of the Panda social media managers, Ana Castillo (@anakas86). Today, both Ana and Marta López
(@mlpzcastellanos) will tell us about social networking at Panda.
Hello Ana and Marta, tell us something about yourselves
Ana Castillo: I am from Granada but I have been over eight years in Madrid. I have a degree in Communication Studies and slowly my professional career focused in the field of online marketing and social media.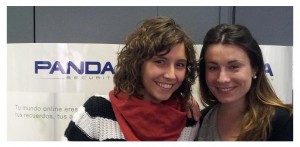 From left to right: Ana Castillo and Marta López
Marta López: Like Ana, I have lived many years in Madrid – eleven! but I am from Oviedo and presume of my Asturian origins whenever I can. I have a degree in Journalism and a Masters in Communication Management and Advertising Management. My professional career began in offline communication but, almost without realizing it, I moved towards the online environment.
In 140 characters, what qualities do you think a social media manager must meet?
You have to be very creative and get an overall view of marketing, but more especifically: empathy, listening skills, being a good communicator and, occasionally, a small dose of patience.
Why do you think a company should implement a social media strategy?
Social networks are currently one of the most active and important media that users have. Through them we talk with our friends, with our family … and, inevitably, talk about our lives and our experience as customers of different brands. If the company wants to control this side conversation, be able to respond to problems, improve its brand image and influence the purchase decision process, the ideal is to develop and implement a social media strategy. Currently, most users decide which product to buy heavily influenced by the recommendations of their contacts and friends.
On which social networks is Panda Security present?
We are currently present in Facebook, Google+, YouTube, LinkedIn and Twitter. These are the social networks with most users, where the majority of our customers or potential customers are and where we can get higher return. Here go just a few examples:
What are your main goals for this year?
Mainly, to strengthen the Panda Security brand. We want the world to know that Panda Security is a modern brand, constantly evolving and adapting to the customer's needs; it is a very dynamic company, always growing and improving. We want to get closer to more people, to give them the opportunity to try out our fantastic products and to build a strong and global community of safe and protected users.
Of the initiatives that you have put in place on social networks, which is the one that has given you greater satisfaction?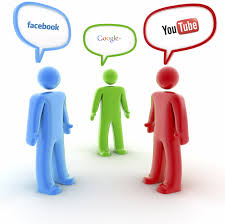 Facebook is probably the most rewarding social network.
There, everyone is more open and predisposed to start a conversation, people love to tell you something about their life and they often express how much they like our products and praise Panda's outstanding customer service.

Well, thank you Marta and Ana very much for sharing your "social ways" with us!
If you want to be part of our community, why don't you just join us?