– Since its launch in 2007, Panda Security's system for automatically scanning, detecting, classifying and disinfecting malware has processed more than 100 million individual files
– Every day, Collective Intelligence automatically processes more than 75,000 new files, of which around 55,000 are new malware
– The first cloud security solution to leverage Collective Intelligence, Panda ActiveScan, has detected malware in 49.5% of computers scanned
Panda Security –The Cloud Security Company– is celebrating the third anniversary of the launch of its cloud security system, Collective Intelligence, which automatically detects, scans, classifies and disinfects 99.4% of all new malware received every day at PandaLabs. It has now processed more than 100 million files since its launch.
In 2007, after two years of development, Panda Security made this pioneering technology available to users and it was this system that allowed the company to offer cloud-based protection solutions to home users and companies alike. This internationally-acclaimed protection model has led the way for the rest of the industry, and offers all users a series of key benefits: investment costs reduced by 50%, reduced local server and desktop resource consumption and greater overall protection in real-time.
Every day, this system receives more than 17 million data requests from users of Panda solutions and processes more than 75,000 new files to determine whether or not they are malware. Currently, around 55,000 new, unique strains of malware appear every day. The company's expert technical team manually processes the 0.6% of files received that cannot be determined automatically.
The Collective Intelligence database currently occupies 2.4TB and generates 190GB of logs every day.
Thanks to this system, Panda Security was the first company to bring cloud-based security solutions to the market:
– Panda ActiveScan, scanning from the cloud since 2007.
– For home users, cloud scanning was implemented in the 2008 consumer solutions, and in the first antivirus designed specifically to protect from the cloud, Panda Cloud Antivirus in April 2009.
– For businesses, cloud-based scanning was offered through Panda Cloud Protection in November 2009, delivering protection for email, servers and desktops. This offer was extended to cover Web traffic in April 2010, with the launch of Panda Cloud Internet Protection. Additionally, all the solutions can be delivered through the SaaS (Security-as-a-Service) model.
Millions of users now benefit from Collective Intelligence
Since its launch, millions of users around the world have experienced the benefits that Collective Intelligence delivers. Panda ActiveScan, the free online antivirus, was the first solution on the market to leverage the cloud-scanning capabilities of Collective Intelligence. It has been used to scan more than 20 million computers since its launch early in 2007.
With the increased detection capacity of Collective Intelligence, and due to ever-increasing cyber-criminal activity, we have detected that 49.44% of computers scanned were infected with active or latent malware. Of these, 55.12% had up-to-date antivirus software installed, underlining the real danger currently posed by Internet threats.
The truly global nature of this threat is illustrated by the following ranking of infections in different countries: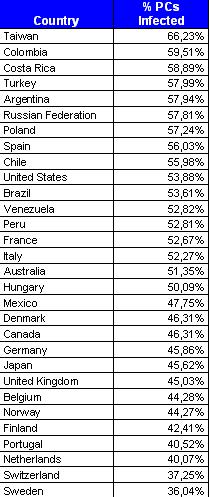 Free trial of Panda Security technology
Panda Security offers all users free trials of its groundbreaking technologies through the following solutions:
– Panda ActiveScan, on-demand scanning and disinfection. Available on the Internet at www.activescan.com
– Panda Cloud Antivirus (www.cloudantivirus.com), free permanent protection.
– Panda Cloud Protection for corporate workstations, servers, email and Web traffic. Free trials are available from http://cloudprotection.pandasecurity.com.