Barracuda Pub Group operates more than 200 managed pubs and bars across the UK
Panda Security's cloud-based solution Panda Cloud Office Protection will protect the company's IT network
l>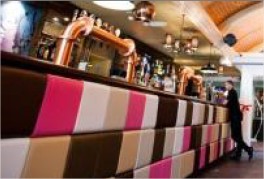 Barracuda Pub Group, one of the UK's leading managed pub companies, has chosen Panda Security's cloud-based solution Panda Cloud Office Protection to protect its corporate network. Panda's solution delivers instantaneous protection against known and unknown malware thanks to Collective Intelligence.
The nature of Barracuda's network means supporting over 200 outlets across the UK, combined with 80 roaming laptop users using VPN connections and the head office employees on a traditional network structure. "Panda Cloud Office Protection is so light and unobtrusive it is invisible to the users" commented Mark Gurney, IT Manager for the Barracuda Pub Group. "Also, with the profile functionality it enables us to set up the various user groups with ease."
The ease-of-use and the detection capabilities shown by Panda Cloud Office Protection were key for Barracuda, as well as its cloud-based Security as a Service aspect. "All computers are protected all the time as they are automatically updated via the web, without user intervention".
Aside from the effectiveness of the solution, Mark Gurney considers Panda's level of support to be unique in the industry. "Having experienced products from a number of suppliers, Panda's most significant differentiator is the focus on providing a service rather than just a product." said Gurney. "From pre-sales, through the purchase process and technical support – nothing seemed to faze them or be too much trouble. If there are any future issues I know I can rely on Panda to provide immediate assistance".
Panda Cloud Office Protection provides antivirus and firewall protection for all PCs, laptops and file servers, managed remotely from anywhere through its intuitive Web-based console.
More information about Panda Cloud Office Protection is available at: https://www.pandasecurity.com/enterprise/solutions/cloud-office-protection/
You can read the Barracuda Pub Group customer success story at: https://press.pandasecurity.com/press-room/case-studies/