="http://www.av-comparatives.org/">AV-Comparatives.org laboratories. These tests simulate real-life conditions very closely, pitting antivirus products against actual threats that can be found on the Web or on users' computers.
Panda Security ranked third out of 22 antivirus products in the tests carried out by AV-Test.org in Q2/2011, receiving the Certified badge. It was also one of only four products to achieve a score higher than 15 points.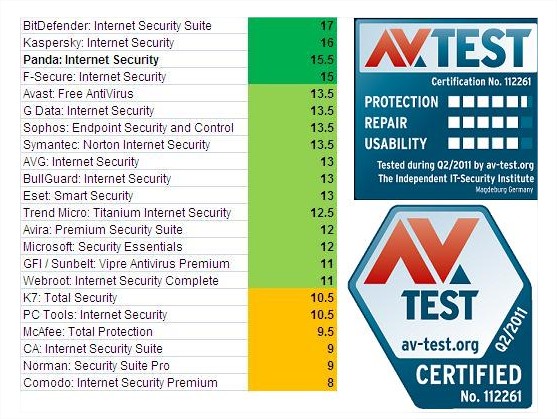 According to Andreas Marx, CEO of AV-Test.org, "Once again, Panda Internet Security was one of the top products in our certification tests. It's the first time we tested the new 2012 edition of Panda Internet Security, and it performed very well in our tests. We do not only focus on protection, but also on repair and usability aspects in our tests and in all tested areas, Panda Internet Security scored 5 points or higher out of a maximum number of 6 points."
As for the tests conducted by AV-Comparatives.org in June 2011, Panda Internet Security 2012 took first place in malware blocking without user interaction. These results show the power of the antimalware engine incorporated into Panda Security's products.
More information about Panda Internet Security 2012 at https://www.pandasecurity.com/homeusers/solutions/internet-security/