AV- TEST, the independent IT security research institute, has been testing international IT security products for many years. Its rigorous individual and comparative tests serve to ensure the quality of tested security products. Obtaining its official seals of approval and certifications, such as those earned by Panda Security, is a guarantee that the cyber-security solution is able to meet the current demands of the security market.
Now, the AV-Comparatives independent laboratory has released the results of a test carried out between March and July this year of 19 market-leading products for businesses with Windows desktops and servers. The security experts at AV- Comparatives put the products to the test against a battery of 1,192 recent malware samples and real-world threats.
The Business Security Test report contains the results of the Real-World Protection Test, the Performance Test, and the Business Malware Protection Test for corporate solutions, in which Panda Security once again scored top results, blocking 99.9 per cent of threats and no false positives with the solution Endpoint Protection Plus on Aether. 
Malware Protection Test
The malware protection test evaluates the ability of a program to protect a system against malicious files before, during, or after their execution. As such, it measures effective protection against real threats, in this case, threats targeted at corporate environments. The aim in such a test is to obtain the best possible results without returning false positives. Panda Endpoint Protection Plus blocked 99.9 percent of the test samples, with zero false alarms, a result which set Panda among the top slots in the table.

Real-World Protection Test
The following results are based on a series of tests consisting of 767 cases (such as malicious URLs), tested between early March 2020 and the end of June 2020. Thanks to the innovative technologies that have adapted to the evolution of malware over recent years, Panda Security delivers a highly effective response to threats such as ransomware and is a key ally in preventing, protecting against, and responding to today's attacks.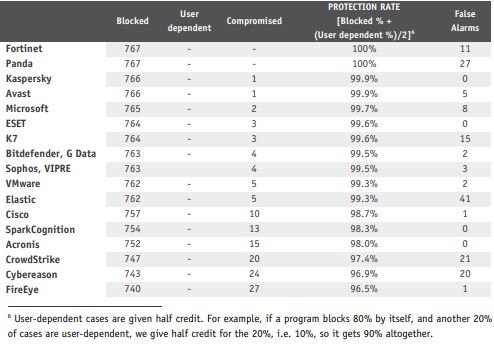 Verdict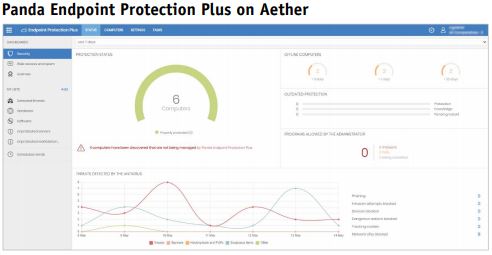 "Panda Endpoint Protection Plus on Aether is a very strong product. It is powerful enough for larger organizations, but simple enough for smaller businesses too. It is very easy to set up, as it requires no on-site server. We were particularly impressed with the clean and obvious design of the user interface, and the speed at which it could be mastered".