Today, Wednesday February 7, the independent laboratory AV-Comparatives celebrated the annual Awards Ceremony for manufacturers of IT security solutions that have undergone their rigorous tests over the course of the year. In 2017, Panda Security achieved the highest level of protection in the Real-World Protection Test, leading to the accomplishment of taking home the gold for the Security Awards of the same year.
Real-World Protection Test, the most demanding assessment 
In 2017, the independent laboratory AV-Comparatives submitted 21 computer security products for Windows to a rigorous investigation. All programs were tested for their ability to protect against real-world threats, identify thousands of recent malicious programs, provide protection without slowing down the PC, and remove malware that has already infected a device.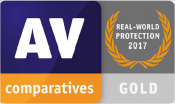 "AV-Comparatives' Real-World Protection Test is one of the most challenging antivirus software tests there is. It simulates a typical user browsing the Internet. [It] is unique in the fact that it runs fully automatically, meaning no other testing lab can test against the same huge number of threats. Logging, screen video recording and sandboxing are all completely automated," according to Andreas Clementi, founder and CEO of AV-Comparatives.
In order to distinguish products that achieve outstanding scores in the tests, the laboratory holds an annual awards ceremony. Panda has been recognized, among other things, for its ease of installation and use, a value which is further cemented by the excellent results obtained in the last 12 months.
The acknowledgments Panda Security received  in 2017 are the following :

"Real World Protection 2017 Gold Award" and "Approved Security Product" for its Panda Free Antivirus solution focused for homeusers and  for Panda Adaptive Defense 360, the advanced cybersecurity solution for companies, respectively.
Initially focused on the creation of antivirus software, the company has expanded its line of business towards advanced cybersecurity services with technologies for the prevention of cybercrime.
With protection solutions and systems management and control tools, Panda Security will direct its actions both in the corporate market for companies and for domestic users. Its products are available in more than 23 languages for its more than 30 million users in 190 countries around the world.
AV-Comparatives: industry leaders in independent cybersecurity testing
AV-Comparatives is an independent, highly reputable organization and an established testing authority. Their analyses are focused on checking whether security software, such as PC-based antivirus products and mobile security solutions, fulfill their promises to users. Being certified by AV-Comparatives is highly valued by the industry and by customers.