Published by Ana Etxebarria
It is clear that the number of applications for smartphones and tablets is almost infinite. There is pretty much an application for everything, and it is fair to say that some of the apps are that divine that they even try to simplify the difficult task of being a parent, helping us find and organize fun activities to keep our children entertained. Plus, many of them are also FREE, so what more could you ask for?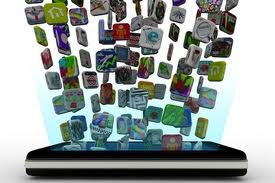 If we focus on the upbringing and education of our children, we also find countless options. There are applications that advise you on what you should and should not do from the moment you know you're pregnant. Others help you find the name of your baby. Others suggest how to organize a birthday party for the youngest lot. Other apps can tell you where to find parks with swings. Other applications can even help you find your kids if you lose them in a mall before you even have the time to get hysterical. Other apps will suggest physical activities to strengthen their still feeble musculature. Other, other, other …. I could spend hours listing applications for parents and there would still be hundreds, thousands, millions to be discovered.
And, of course, among all these fancy stuff, there are also applications which are most questionable. For example, Tymoot. Pronounced like Time Out, it refers to those moments where your children are sent to their room "to reflect" about the latest deed committed. It is therefore an application that will help us manage the punishments to impose on our children. It is advertised as the "ultimate mobile discipline tool", which actually sounds quite funny …
The way it works is simple. Enter the birthdates of your children and the app will give you the suggested duration of the punishment in accordance with the children's age. A priori, this task should not be that complicated for us, as parents and as inexperienced Internet users, as to need a specific application. Everyone knows that the ideal is one minute for each year of the child. But the best is yet to come!
The section entitled "Wheel of Discipline" is advertised as "horrible and terrifying" and it does sound like a sort of medieval torture. It actually does not go that far. It is simply a wheel where punishments of the most varied type are drawn. For example, forcing one child to be present when his/her brother is given preferential treatment or make the child wear clothing of the opposite sex if the child has shown sexist behaviour …
It's okay for parents to need support. Clearly the world has become so complex that we are extremely vulnerable, but this should not lead to anyone taking advantage of our weaknesses, our lack of time and our inexperience to sell nonsense that will distract us from our real obligations.
Do you feel too burdened by useless applications?, Do you dare to make your own ranking of silly applications? To break the ice, I will start:
Birth Buddy: a woman who is going to give birth is supposed to enter the frequency and duration of contractions …